During his Monday night hour on Indiana's religious freedom law, CNN's increasingly bizarre Chris Cuomo repeatedly taunted Indiana Governor Mike Pence for not agreeing to an interview with Chris Cuomo. The taunting continued this morning with this tweet from a CNN staffer:
—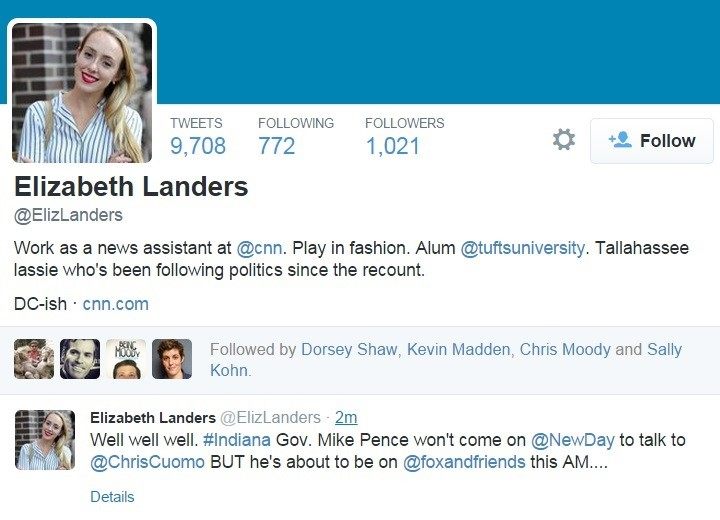 —
Cuomo, who uses CNN to openly promise the White House help on pushing its agenda, has been a borderline hysteric on Indiana's law — a font of misinformation, especially in the beginning. Monday night he hammered Indiana's Lt. Governor over that state's religious freedom law, going so far as to say, "the LGBT community seems to put a target on its back."
Later that same hour Cuomo browbeat the Family Research Council's Peter Sprigg by, among other things, pretending to speak for Jesus, "Jesus message to you was 'Love until it hurts and keep loving.' That's not what [this law] is. It's exclusion."
Of course Cuomo can't cite an example of Jesus participating in or enabling the sacrementalizaion of sin, which is precisely what participating in a same sex marriage is (this is why bakers, florists, and photographers draw a reasonable line here). Coercion by the government to participate in sin has nothing to do with love.
Cuomo, who regularly hides behind his own Catholic faith to blast the Faithful as bigots, is not only speaking for Jesus, he apparently believes Jesus is a shameless demagogue who would show love to everyone other than Christians who don't wish to violate their religious conscience.
Cuomo's relentless taunting of a governor, who just two days ago appeared on ABC News, and speaking for Jesus appears to be part of a troubling pattern with Cuomo. Like all of CNN, not only is Cuomo chucking aside all pretense of objectivity as the entire cable news network moves to the far left, but there is an increasing unhinged quality about Cuomo's left-wing attacks against conservatives and traditional values.
Part of it is simply his outsized ego and opinion of himself (last month he tweeted out a shirtless photo of himself), part of it is an apparent derangement fed by his hatred of those he disagrees with.
Just last month, while browbeating a judge over same sex marriage, Cuomo said our rights do not come from God. Earlier this month, Cuomo was even more apoplectic than his media colleagues over the letter 47 GOP Senators wrote to Iran. The New Day anchor spent two days attempting to get people to agree with him that the letter was racist.
When Cuomo was at ABC News, like Jake Tapper he was newsman conservatives like myself respected. Unlike Tapper (who's retained his objectivity and credibility at CNN), Cuomo's move to CNN has created an egomaniacal leftist who thinks he speaks for no less than Jesus Christ and can call out a governor for not appearing on a morning news show that pulls fewer viewers than Headline News.
Follow John Nolte on Twitter @NolteNC