BOSTON—"When it snows at Fenway it's kind of like a snow globe," groundskeeper Dave Mellor tells Breitbart Sports. "It's special."
The snow globe never stopped shaking this winter. This spring, Mellor and company work to make Fenway look like it spent February in Florida with the Red Sox. It's a challenge.
Boston set a snowfall record this season. The 110 inches stand nearly two-and-a-half times the normal amount for an Olde Towne winter. If Dustin Pedroia stood on David Ortiz's shoulders, he would be able to see the sky over a pile of snow that tall. But he would have had to dig to see the clay around second base. The city boasts of plowing 316,031 miles of streets and spreading 114,113 tons of salt. Mother Nature cancelled eight days of school and more than 4,000 flights out of Logan Airport.
The blizzards pitted neighbor against neighbor over shoveled-out parking spaces. The Red Sox, and the sunshine the team unfailingly brings, unites them again.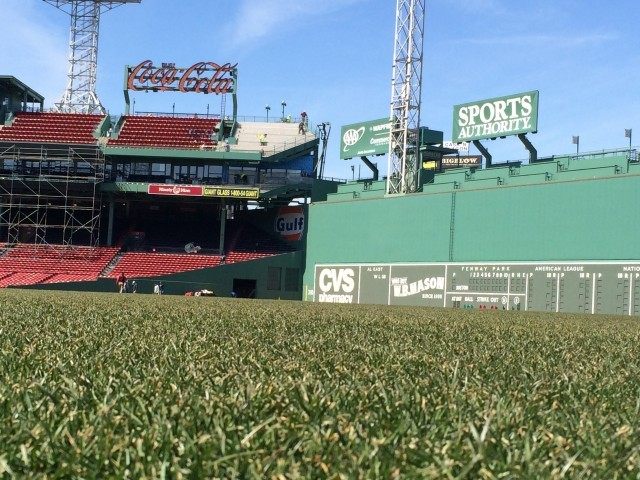 A late March trip to Fenway revealed a surprisingly bustling ballpark. Painters award a new coat to the railings around the seats. Deliverymen wheel cases of vodka in through Yawkey Way's Gate D. Cleaners steamwash the aisles. Where the centerfield bleacher camera once spied and where a foul-of-the-pole upperdeck sits adjacent to the monster seats, construction workers add new spectator sections to John Updike's "lyric little bandbox of a ballpark."
But the biggest job involves preparing a winter-beaten baseball diamond for the boys of summer. Mellor notes that in five of his last seven seasons working for the Brewers it snowed the night before Opening Day. But not even when Mellor groomed the grass of Milwaukee County Stadium—he calls Bud Selig "an amazing man to work for"—did he face a winter as punishing as this.
"It's certainly the most snow I've experienced throughout my career," Fenway's head groundskeeper tells Breitbart Sports. "Fortunately, we have a late opener this year."
The daunting obstacle facing him pales next to the ones Mellor has already scaled. At eighteen, his baseball dreams died on a fender in a McDonald's parking lot. A motorist launched him twenty feet in the air. Crutches and then a cane kept him from college for three years—and his college's baseball diamond for good.
"I was mad at the world when I was eighteen years old," the grandson of a major leaguer reflects. "I lost my baseball scholarship. What am I going to do know?" Mellor shifted from playing on fields to preparing them. His agronomy major at Ohio State landed him internships at Candlestick Park, The Big A, and, significantly, Milwaukee County Stadium.
Another challenge struck after the 1995 season at Milwaukee County Stadium. "I was raking out the left fielder's position," Mellor recalls. "I heard a car, and I said, 'That's odd.'" Odder still was when the motorist raced onto the baseball field and straight toward him. "As I put my hands up, the lady smiled as big as she could, and hit the gas," Mellor remembers. She almost hit a home run. "I landed on the warning track."
After making stock-car-like laps in her automobile, the driver spun her wheels, shooting sod ten rows deep. She charged the man she had just injured. This time, the smiling psycho swerved at the last second. When the cops arrived, after her obligatory attempt to stab them with a pen, she explained: "I'm here to do a stunt for a movie, and if it doesn't work I'm supposed to kill myself."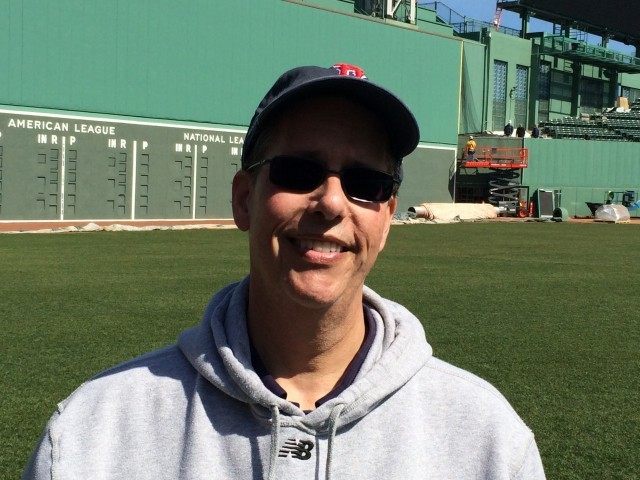 Mellor found himself in a bad way but in good company. The crazed woman had stalked singer Julio Iglesias, threatened the Queen of England, and, the previous evening in Chicago, tried to assault the Queen of Daytime Talk, Oprah Winfrey. The ordeal unleashed ordeals: five surgeries and a knee replacement.
What's nine feet of snow compared to all that?
Mellor, Jason Griffeth, Derek Gauger, and Jedi Saverse, the park's crew of four full-time groundskeepers, punched back at the White Beast that had battered Green Monster this winter. Whereas football grounds crews may wield shovels, snow blowers, and plows to clear the field, Fenway's guardians of the grass eschewed the heavy machinery for more gentle methods, primitive and advanced.
To ensure that a playing surface more fitting for Sunday Night Baseball than the Winter X Games greeted the Red Sox upon their return, Mellor's team scattered 100 bags of black sand—two-and-a-half tons—over Fenway's expanse. Whereas the snow reflects the sun, the sand absorbs it. Mellor says the sun and sand, which largely disintegrates into the dirt, combined to melt the snow in a matter of weeks.
The Red Sox grounds crew deployed a growth blanket over the infield to allow light, air, and moisture to pass through while keeping the diamond warm. Above the blanket, snow fell—and fell some more. "Snow's a great insulator," Mellor points out. "It keeps the frost from going too deep."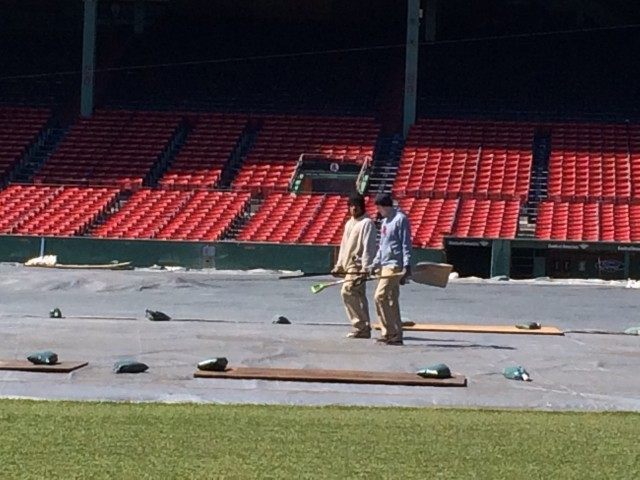 "We're still dealing with frost," he notes. "When it's chilly the grass isn't as actively growing." The Red Sox combine Kentucky Bluegrass with Perennial Ryegrass to produce a Kermit-colored field. Keeping it a healthy green rather than a sickly brown requires an inch of water a week. The precipitation that bedeviled Mellor in winter comes as a blessing in summer. And he prefers that H2O come from the skies rather than the spigot. "Nobody can water like Mother Nature."
The grass, which generally receives a scheduled resodding after hockey events every other year, appears as a slightly overgrown putting green upon the late March visit. The infield, which gets laser-leveled every year, depends on water, too—but as much for the clay as for the turf. "Moisture's the key," Mellor maintains. "You want the infield skin to be corky. You want cleat in, cleat out."
Weeks after Fenway Park saw snowboot in, snowboot out, Shane Victorino, Pablo Sandoval, Hanley Ramirez, and Brock Holt sink their cleats into grass and clay thanks to Dave Mellor, Jason Griffeth, Derek Gauger, and Jedi Saverse. This Boston winter may be something that he never sees again—lest he demote himself to the Syracuse Chiefs in the minors. But if past performance guarantees future results, he will see more challenges.
Dave Mellor, like other winter-hardened New Englanders, stoically acknowledges, "Adversity makes me stronger."