As the nation continues to demand answers over the OPM data breach which potentially compromised the personal information of millions of government employees, federal agents and officers are barely being notified of a separate – but apparently related – attack at a government contractor that took place about nine months ago.
The recent notification shows a pattern of hacks at not only government agencies, but also government contractors, which may have put the information of agents, their relatives, and friends at risk… and yet, the government has been slow to acknowledge the attacks, much less warn the employees.
Breitbart Texas obtained a copy of a letter sent by the Department of Homeland Security to its employees dated June 4, in which the agency notifies them about their information possibly being compromised during the September 2014 attack.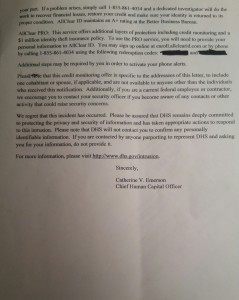 This attack is separate from the recent OPM data breach – which, as John Hayward of Breitbart News previously reported, has spread panic among federal employees.  However, since the notification was sent out on June 4, the timing caused some confusion with DHS employees at first.
Federal authorities found out about the attack on September 2014 when unknown individuals gained access to information stored by Key Point Government Solutions pertaining to Department of Homeland Security employees, plus their spouses, friends, and family, as gathered during the background check process.
The attack on Key Point signals a persistent effort to gather information on federal agents, since Key Point obtained the contract with the Office of Personnel Management after their previous contractor USIS was unable to prevent yet another hacking attack. The Washington Post reported in December about that attack on Key Point.
According to the DHS website post on this attack,"Key Point is a DHS contractor that processes personnel background security investigations and credit checks of job applicants who may or may not ultimately have been employed with the Department. Certain current and former DHS employees and contractors, as well as job applicants are potentially impacted by this breach."
In the letter DHS employees received, Chief Human Capital Officer Catherine V. Emerson tells agents that "DHS remains deeply committed to protecting the privacy and security of information and has taken the appropriate actions to respond to this intrusion."
Follow Ildefonso Ortiz on Twitter and on Facebook.