On Tuesday, retiring Sen. Harry Reid admitted that he claimed Mitt Romney paid no taxes out of a partisan urge to lie on behalf of President Obama.
Brian Hughes, a White House reporter for the DC Examiner tweeted out Earnest's response: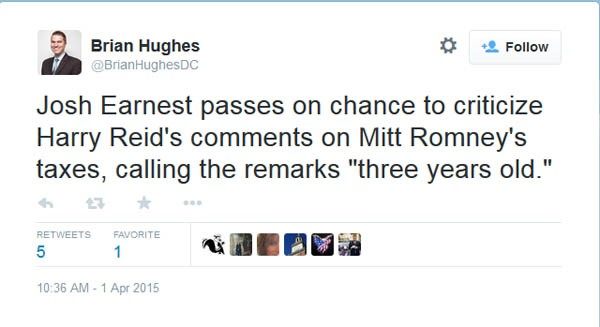 On Tuesday, Senator Reid was asked about his claims during the waning days of the 2012 election that Mitt Romney had paid no taxes for 10 years. CNN reporter Dana Bash noted that some had called Reid's claim, presented without any proof, "McCarthyite."
Reid replied, "Well, they can call it whatever they want. Um… Romney didn't win, did he?"
This suggestion that the ends justified the means comes after Reid announced he will not run for reelection in 2016.
Reid first made the claim that a former investor in Romney's company, Bain Capital, had told him Romney paid no taxes for 10 years in an interview with the Huffington Post. A few days later, he repeated the claim on the Senate floor and demanded Romney prove him wrong.
Reid was judged a liar by both the Washington Post and Politifact after making his claims in 2012. Romney later released a letter from Price Waterhouse Cooper which concluded he had paid taxes every year going back to 1990 with an overall average rate of 20 percent.