Floyd Mayweather revealed his plans for the eve of the biggest fight of his boxing career: He's watching American Sniper.
"I haven't watched that movie American Sniper," the undefeated welterweight revealed in a live interview with ESPN after the weigh-in for his fight with Manny Pacquiao. Mayweather said he hopes to relax by watching NBA playoff basketball, eating a dinner of spaghetti, broccoli, a Hawaiian roll, and water, and taking in a viewing of American Sniper with his sons. "We're going to watch American Sniper."
The American and his Filipino opponent both came in under the 147-pound limit on Friday afternoon. Pacquiao tipped the scales at 145 while Mayweather registered a 146-pound reading. More than 11,000 fans paid $10 a head to attend the pre-fight ritual and raise money for charities supported by each of the fighters. Mayweather's split went to the Susan G. Komen Race for the Cure and Pacquiao's part supported the Cleveland Clinic Lou Ruvo Center for Brain Health. Pac Man trainer Freddie Roach suffers from Parkinson's disease, likely as a result of blows endured during his 53-fight professional boxing career.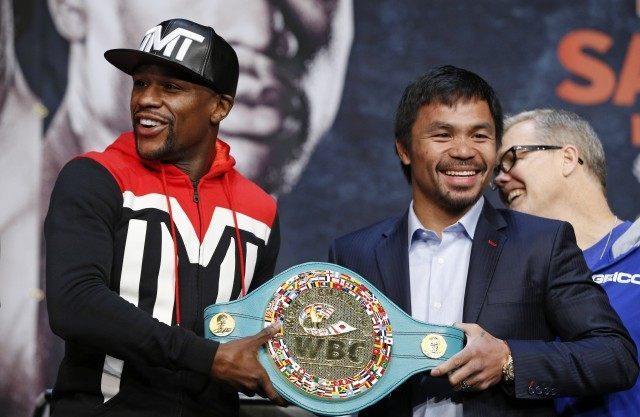 Another trainer of champions, Teddy Atlas, told Breitbart Sports that Mayweather's success or failure in pot-shotting Pacquiao as he attempts to close distance will likely play as a key in determining the victor. "Mayweather's greatest strength is also his greatest weakness: his defense," Atlas judged in a conversation with Breitbart Sports two weeks ago. "His greatest strength—that's how he makes his living, that's why he's 47-0. But he goes defensive too much sometimes. And that's the hope for Pacquiao, to outhustle, to outwork him in those spots and be able to steal rounds by his work rate in those spots."
It's perhaps fitting that the shoulder-rolling, pot-shotting American sniper would relax before the fight of his life by watching a cinematic tribute to another American sniper.
The Academy Award-winning film has become a favorite among athletes looking for inspiration. New England Patriots head coach Bill Belichick arranged with Clint Eastwood for a pre-release screening for his team this past season. Tom Brady called the film "phenomenal" while his coach dubbed it "a great movie." Belichick characterized American Sniper as a movie about a guy "who's got a a job to do." The tight-lipped strategist offered, "It has some good messages in it and really focuses on skill and will."
After activists briefly banned a showing of the film at the University of Michigan, Wolverines head football coach Jim Harbaugh tweeted his support for the late Chris Kyle and America, and vowed to screen the film for his players. "This issue is not American versus un-American, it's about the safety of Muslim students on campus," Michigan senior Sumana Palle told Breitbart Sports. "By having such a popular figure twist the issue into something it wasn't about, I think [Harbaugh] unintentionally framed the groups that spoke out against the screening of the film as un-American and anti-free speech."
Now another Michigan hero, Floyd Mayweather, Jr., looks to the controversial and critically-acclaimed film about the veteran of the Iraq War for inspiration.