Pittsburgh – An unidentified police officer is facing possible discipline after a picture recently surfaced showing him wearing a unicorn mask while posing with a porn star who had just been thrown out of a Pittsburgh Pirates game for "sexy dancing" in the aisles….while wearing a unicorn mask. 
City officials said that the adult thespian, Andy San Dimas, was in town last Saturday to dance at a local night club but decided to attend the Pirates/Mets game first, where she was ejected by security for refusing to sit down after she was spotted dancing in a provocative fashion while donning the aforementioned unicorn mask.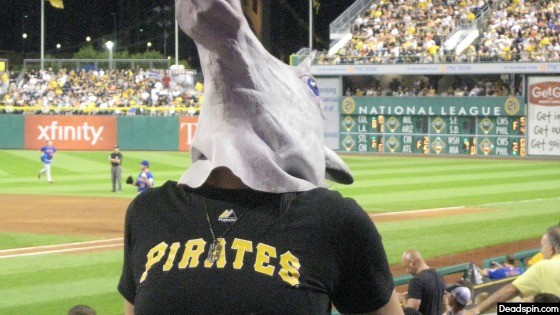 Shortly thereafter, San Dimas and her friend took a picture with a man wearing a city police sergeant's uniform, and subsequently put it on the Web. The incident is currently under investigation but according to acting Pittsburgh Police Chief Regina McDonald, "at this time [they] have not identified the individual or the circumstances." 
According to a Pittsburgh Pirate fan, identified only as "Dave," San Dimas described herself to a group of Pirate fans as a "major triple x star" and a member of the "unicorn army," a group whose members "take pictures of themselves wearing the unicorn mask in various places." 
The newest member of the unicorn army is also a member of the Pittsburgh Police Department.