Some time ago, my wife and I went to our favorite amusement park, and thanks to either timing, weather or luck, the place was like a ghost town. So rather than waiting an hour in line to ride our favorite rollercoaster, we could walk right on. We ended up riding about twenty times, and after a while the thrill of the ride wore off. But we were able to discover other pleasures: the view, the open air… After 40 years and over a dozen viewings, the same is true for "The Exorcist" (1973).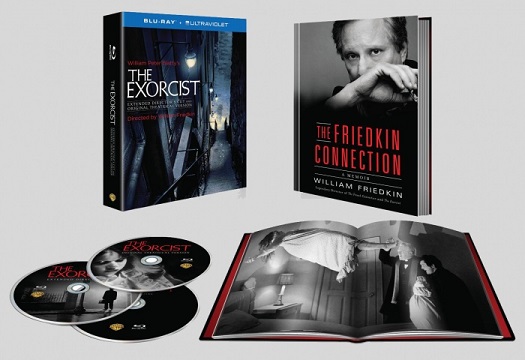 Though it once terrified me to my core, director William Friedkin's perfectly realized filming of William Peter Blatty's screenplay (based on his own best-selling novel) about a 12-year-old girl possessed by a demon, just doesn't scare me anymore. But because "The Exorcist" is so much more than just a brilliant horror film, that doesn't matter.
What I now love about the film is its story of Father Damien Karras (a magnificent Jason Miller), a priest racked by guilt over the death of his mother and going through a crisis of faith. Karras is an intellectual, a man of science (a Jesuit psychiatrist), and openly questioning the existence of God. I also love the story of Christine MacNeil (Ellen Burnstyn), an atheistic Hollywood actress.
What brings them together is Regan, an innocent who has been psychologically and physically twisted into something her mother, Christine, no longer recognizes and no gathering of the finest Georgetown doctors can begin to explain. Regan's last hope is an ancient ritual known as a Catholic exorcism.  And to receive that, her mother, who once got angry after finding a Crucifix under Regan's pillow, must beg a wavering priest to perform it.
"The Exorcist" is filled with a half-dozen truly repulsive moments, but it is still one of the most Christian films ever made because those moments are necessary to honestly portray evil, and therefore good.
And "good" in this blockbuster is the saving grace of Jesus Christ. Once you get past the pea soup, the masturbation, and the hideous language, you will then discover and appreciate what to me is the most rewarding and memorable moment of them all: It occurs early in the actual exorcism when the horror unfolding before Karras's eyes both repulses him and restores his faith.
The 40th anniversary Bluray just released from Warner Brothers offers the director's cut, the theatrical cut, and all the extras that came with previous DVD releases. But there is also a third disc with all new material, including an in-depth interview with Blatty and a fascinating 1974 interview with Father Eugene Gallagher, who was one of Blatty's Georgetown religious instructors.  Gallagher told his students about a real-life exorcism, a story that years later would inspire a literary and film sensation.
Gallagher's matter-of-fact reading of the documented history of an actual 1949 exorcism is a lot like "The Exorcist" — a chilling reaffirmation of faith.
If you have never seen "The Exorcist," brace yourself. But for Catholics and Christians, there is so much more left to discover long after the thrill of the ride wears off — a beautiful, moving, and respectful  testament to our God and our faith.
'The Exorcist: 40th Anniversary' [Blu-ray] is available at WBShop.com.