Two Texas border churches in a rural community were intentionally set on fire almost simultaneously. Investigators of the crime are puzzled about the motive for the fires.
The fires took place Friday early morning in the town of Hargill a small rural community just north of the Texas border.
While details of the case and motive are yet unknown, the Hidalgo County Sheriff's Office told Breitbart Texas that the evidence at First Baptist Church and Our Lady of Guadalupe Chatholic Church points to arson.
Both buildings sustained heavy damage but firefighters from the nearby community of Monte alto were able to stop the fires before they completely burned the churches down.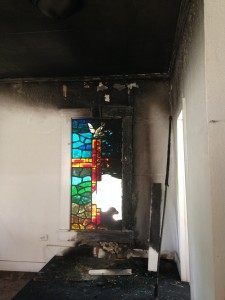 Sheriff's investigators and their counterparts with the fire marshal's office continue to search for clues in the case and have reached out to the public in asking for tips.
The small community of Hargill is primarily known as a ranching area. Its remoteness has allowed it to be used by drug trafficking organizations to hide large shipments or narcotics. They also use the community to stage their human cargo in preparation for the trip north past a U.S. Border Patrol checkpoint about 80 miles north from the border near the city of Falfurrias.
In 2012, a Hargill man and his two sons picked up their weapons and chased down various roads firing their guns at Homeland Security Investigations Agent Kelton Harrison. The HSI agent, who falls under the umbrella of Immigration and Customs Enforcement, had been in the area with a team conducting a surveillance operation on a suspected marijuana drop.
During their trial, prosecutors showed evidence that hinted at the family's connection with drug trafficking. At the time of the shooting, they had two illegal immigrants hiding in their property.
Photos courtesy of the Hidalgo County Sheriff's Office