U.S. Customs and Border Protections (CBP) officers arrested an American citizen after she allegedly attempted to smuggle a load of marijuana across the border into west Texas from Mexico.
CBP officers assigned to the Presidio port of entry observed a woman crossing the border from Ojinaga, Mexico, in a 2004 Nissan X-Terra SUV on Friday morning. Officers became suspicious after reviewing the woman's travel itinerary and asked her to move the SUV to a secondary inspection station, information obtained by Breitbart Texas from CBP officials revealed.
During a secondary inspection, a K-9 officer alerted to the possible presence of drugs in the vehicle. Officers then conducted a non-intrusive x-ray examination. The inspection revealed several anomalies in various locations throughout the vehicle.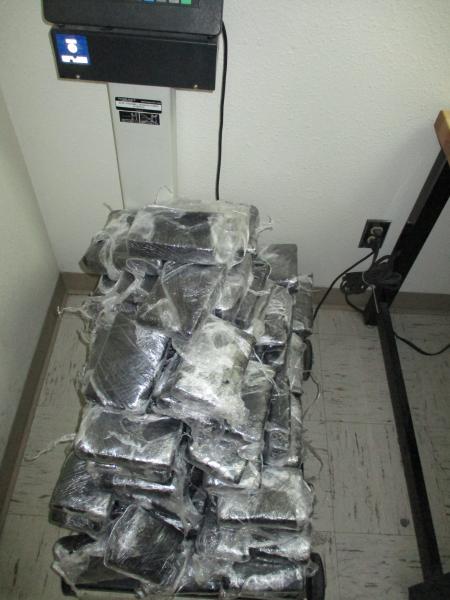 Officers then conducted a physical inspection of the X-Terra and discovered 123 bundles of a "green leafy substance." The bundles were located in nine separate storage areas inside the vehicle. Officials said the leafy substance "tested positive for the properties of marijuana."
CBP officers arrested the woman and determined her to be a U.S. citizen. Officers turned the 44-year-old woman over to U.S. Immigration and Customs Enforcement Homeland Security Investigation special agents for investigation. They seized the marijuana and the X-Terra.
The weight and value of the marijuana were not disclosed in the statement.
"This seizure reminds us a smuggler will use all available places in a vehicle to smuggle narcotics,"  CBP Presidio Port Director Michael Neipert said in a written statement,  "Our officers are trained to do complete inspections in order to discover any and all narcotics possibly concealed within a conveyance."
In other locations along the southwestern border, CBP officers seized an additional 270 pounds of drugs and arrested 14 fugitives with felony warrants over the Memorial Day weekend. The seizures included 88 pounds of methamphetamine, 34 pounds of cocaine, 27 pounds of heroin and 120 pounds of marijuana. the 14 fugitives were arrested for various charges that included assault, felony homicide, parole violation, and vandalism, officials stated.
Bob Price serves as associate editor and senior political news contributor for Breitbart Texas. He is a founding member of the Breitbart Texas team. Follow him on Twitter @BobPriceBBTX and Facebook.