Who is the young man arrested for allegedly attempting to plant explosives at a Confederate statute in Houston, Texas, on Saturday?
Law enforcement officials came into contact with Andrew Cecil Earhart Schneck as he crouched behind bushes in Houston's Hermann Park near the statue of Confederate General Richard Dowling about 11 p.m. Saturday. A park ranger noticed Schneck carrying a bottle containing an unknown liquid. Schneck attempted to drink the liquid explosives but spit it out, according to a statement from the U.S. Department of Justice, Southern District of Texas.
A criminal complaint revealed more details about the park ranger's encounter with Schneck. As the suspect came out of the bushes, the ranger observed Schneck holding two small boxes with various items. Those items included duct tape and wires, the FBI agent wrote. After being ordered to place the boxes on the ground, Schneck allegedly pulled out a bottle containing liquid. The ranger said he opened the bottle and attempted to drink from it, but spit some of the liquid out. He then poured the remaining contents on the ground.
The ranger contacted the Houston Police Department, who then summoned the bomb squad to investigate. Police asked Schneck why he wanted to harm the statue and he answered he did not "like that guy," the complaint states.
The two small boxes contained duct tape, wires, a timer, and nitroglycerin and hexamethylene triperoxide diamine (HTMD), the active ingredient in the manufacture of explosives. Officials stated that "nitroglycerin is highly dangerous to transport or use. In its undiluted form, it is one of the world's most powerful explosives." Schneck reportedly told police that he had other chemicals at his home. Officials also said he conducts "chemistry experiments" there.
Schneck's appearance in the park came mere hours after a protest in downtown Houston. Communists, Democratic Socialists, Brown Berets, anarchists, Black Lives Matter, and other supporters of the "Destroy the Confederacy!" movement marched in the sweltering 99-degree heat in Houston on Saturday to demand that city officials tear down the "Spirit of the Confederacy Statue," reported Breitbart Texas.
Federal prosecutors charged Schneck with attempting to maliciously damage or destroy property receiving federal assistance. The City of Houston receives federal funds to assist with the maintenance of the park.
Breitbart Texas reported from the scene of the young man's home on Sunday afternoon and evening while the FBI conducted an investigation and search of the residence. Neighbors told Breitbart Texas this is the second time in four years this has happened at the same home. On Monday morning, officials with emergency management for the City of Houston ordered the evacuation of the residential block around the home where suspected bomb-making materials were found. The evacuation followed an "all night enforcement operation" carried out by the FBI and the Bureau of Alcohol, Tobacco, Firearms, and Explosives (ATF). FBI officials told reporters from KTRK ABC13 they would be conducting "controlled explosions of hazardous material" they found inside the home.
Schneck's lawyer, Phillip Hilder, responded to an inquiry from Breitbart Texas Monday afternoon saying that "This is an evolving situation in an ongoing investigation. It would be premature for me to comment before any evidence is presented."
Here are five facts about the man arrested for allegedly attempting to blow-up the Confederate statute in Houston.
1. Schneck is from a wealthy, influential family in Houston.
Andrew Schneck lives in the affluent neighborhood of Southhampton Place near Rice University. The home at 2025 Albans is owned by Schneck's father, Andrew E. Schneck, and his mother, Cecily E. Horton. Horton is a prestigious member of the Houston art community. Harris County tax records show that the property and home are appraised at $2,026,750.
2. This is the second time Schneck has been in trouble with authorities over explosives.
In 2013, federal agents raided a property connected to the young man and searched for chemicals that could be used to make "tear gas or nerve gas." Agents later determined that the material was a military-grade explosive. Following the raid, then-22-year-old Andrew Cecil Earhart Schneck pleaded guilty to one count of storing an explosive in a manner not in conformity with regulations. He was sentenced on August 7, 2014, to five years of supervised release, and was assessed $25.00 and restitution of $159,087.05.  
3. In 2016, a judge released him early from his 5-years supervised release.
In 2016, Schneck's lawyer, Phillip H. Hilder, petitioned Judge Nancy K. Johnson to sign an order terminating Schneck's term of probation. According to court documents obtained by Breitbart Texas, defense counsel argued Schneck had "successfully completed 28 months of his 60-month sentence of supervised release." "Early termination of supervised release is warranted," the unopposed motion stated, "due to Schneck's exemplary post-conviction adjustment and conduct, including completing discharging the financial obligations related to this case." The motion said early termination was warranted because Schneck had "devoted himself to his education and was awarded a Bachelor of Arts from Austin College" and had "matured and his focus is no longer concentrated on high-risk activities." It also stated that the restitution of $159,087.05 ordered by the court had been paid. On November 8, 2016, the judge signed the order granting the motion for early termination of his term of supervised release.
4. Schneck graduated with a major in Chemistry.
Schneck graduated from Austin College with a major in Chemistry. His minor was in the Classics. The motion for early release from his probation stated that Schneck "is currently evaluating employment and educational opportunities with the desire to obtain an advanced degree where he hopes to study chemical reactions using cutting-edge computer learning software." His work with another student called "Synthesis and Characterization of Vanillin Derived Bis-Urea Organogelators " was highlighted in a 2015 Austin College Student Scholarship Conference.
5. He apparently uploaded a treatise to scribd.com on the explosive material Octanitrocubane.
A search in scribd.com of "Andrew Cecil Earhart Schneck" reveals that Schneck apparently uploaded a treatise entitled "Octanitrocubane: A New Nitrocarbon." A screenshot of the essay by the two educators at the University of Chicago, Department of Chemistry has been placed below.
The summary of the paper states, "Octanitrocubane, the first new nitrocarbon in 18 years, is introduced as a potential explosive of great power. Its synthesis and characterization are described." The tags in the 2002 essay itself are "Propellants, Explosives," Pyrotechnics 27."
The scribd.com tags for the document include: "Explosive Material," "Chemical Reactions," "Nitrogen," "Molecules," and "Alkene."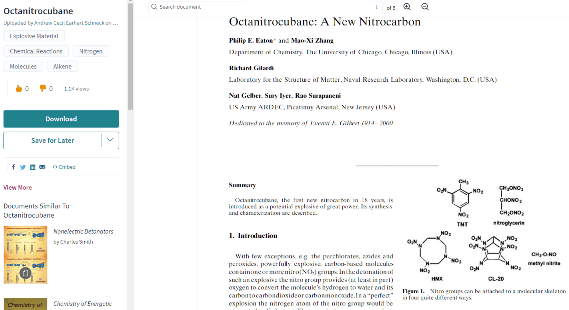 Schneck made his initial appearance before U.S. Magistrate Mary Milly Monday morning. The judge ordered him held into temporary custody. A detention hearing is scheduled for Thursday, August 24.
If convicted, Schneck could be sentenced from five to 40 years in prison and receive a possible $400,000 fine.
Bob Price serves as associate editor and senior political news contributor for Breitbart Texas. He is a founding member of the Breitbart Texas team. Follow him on Twitter @BobPriceBBTX and Facebook.