A report released by U.S. Customs and Border Protection (CBP) on Tuesday morning shows that total apprehensions along the southwest border with Mexico dropped during Fiscal Year 2017. The reduction comes despite five straight months of increases in apprehensions most recently.
The total number of apprehensions fell from 408,870 in FY 2016 to 303,916 in FY 2017 which ended on September 30, CBP officials stated. This represents a nearly 26 percent decrease in total apprehensions.
Since falling dramatically during the first four months of the Trump Administration, apprehensions increased for five consecutive months ending FY2017. From a low point in April of 11,127 apprehensions, the figures more than doubled to 22,537 — a 103 percent increase for the five-month period. From August to September, the total apprehensions rose from 22,228 to 22,537 (1.1 percent).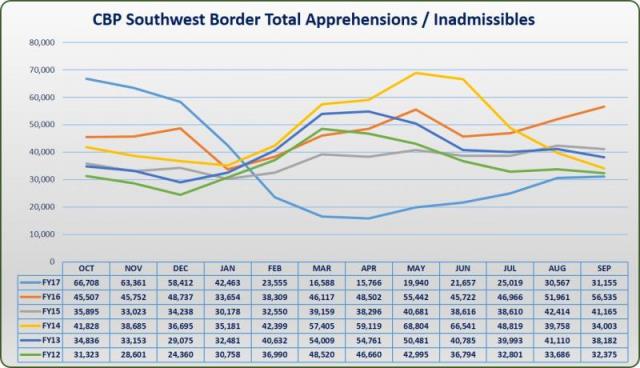 Of the 303,916 total apprehensions, Family Unit Aliens (FMUA) and Unaccompanied Alien Children (UAC) made up nearly 40 percent (117,057 total FMUA and UAC). In FY 2016, Border Patrol agents apprehended 77,674 FMUAs. This number fell in 2017 — a slight decrease of 2.64 percent. Agents arrested 59,629 UACs in FY 2016. This number fell to 41,435 in FY 2017 — a nearly 31 percent decrease.
The Rio Grande Valley (RGV) Sector continues to lead the nine sectors that make up the nation's southwest border with Mexico in apprehensions of FMUAs and UACs. During FY 2017, agents arrested 49,896 FMUAs in the RGV Sector. During that same period, agents arrested 23,708 UACs, officials reported. These numbers are down from 52,006 and 36,714 respectively.
In FMUA apprehensions, Guatemala also led with 24,657 apprehensions. This is followed closely by El Salvador (24,133), Honduras (22,366), and Mexico (2,217).
Guatemala ranked number one in sending UACs to the U.S. Agents apprehended 14,827 UACs. This is followed by El Salvador (9,143), Mexico (8,877), and Honduras (7,784).
The numbers of UAC apprehension continues to be a concern to federal officials. Since the surge of UACs was first reported by Breitbart Texas Editor-in-Chief Brandon Darby in June 2014, MS-13 gang membership has seen explosive growth, resulting in an escalation of gang-related violence.
During a recent period of arrests of MS-13 gang members in New York, federal reports indicate that one-third of the 214 MS-13 gang members "would have been classified as UACs," Breitbart Texas reported. Reports from the Office of Refugee Resettlement show the agency placed more than 40,000 UACs around the country during the most recent fiscal year.
Bob Price serves as associate editor and senior political news contributor for Breitbart Texas. He is a founding member of the Breitbart Texas team. Follow him on Twitter @BobPriceBBTX, GAB, and Facebook.
This article was expanded to reflect additional information.