The U.S. Department of State (DoS) rolled out a level-based warning system and issued "do not travel" advisories to five Mexican states–all for cartel violence.
A level down, DoS advised travelers "reconsider" (level 3) Central America's Northern Triangle states, Guatemala, Honduras, and El Salvador.
The State Department point system quantified freedom to travel safely across the board.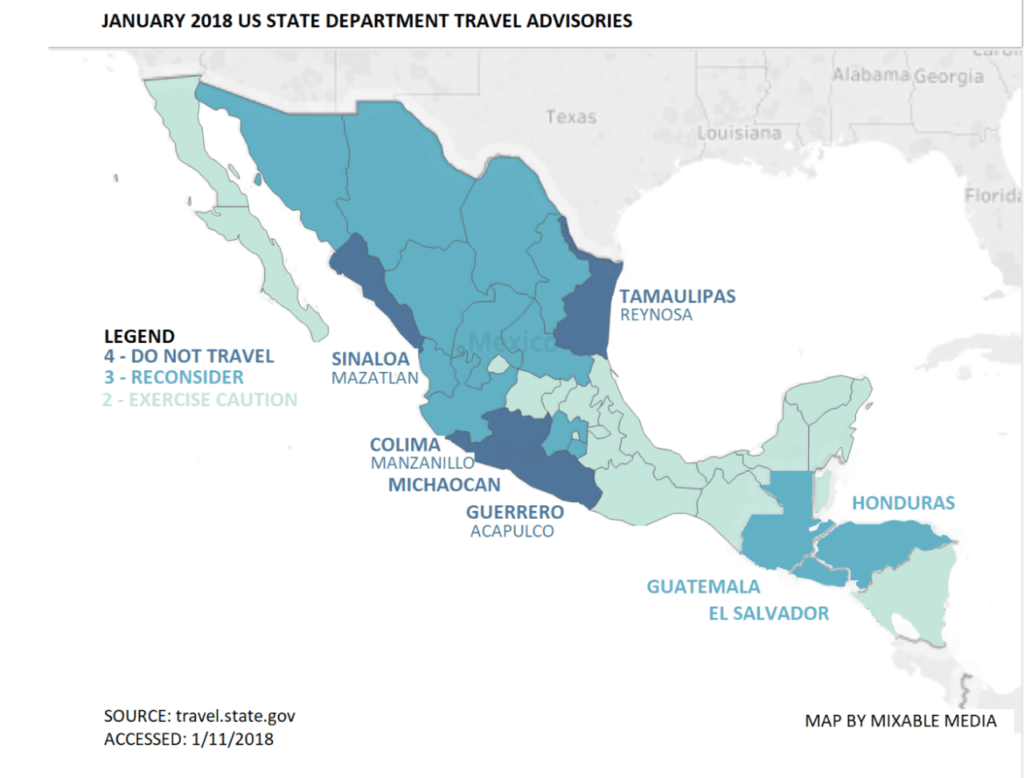 ​​Four out of five "do not travel" states, homes to 12 million people, rim the Eastern Pacific Ocean on Mexico's west coast. Across the Colima-Michoacán-Guerrero tri-state area, the U.S. government prohibited employees from travel:
"to the entire state of Guerrero, including Acapulco"; "armed groups operate independently of the government in many areas"
"in Michoacán state, with the exception of Morelia and Lazaro Cardenas cities and the area north of federal toll road 15D"; "by land, except on federal toll road 15D"
"to Tecoman or within 12 miles of the Colima-Michoacán border and on Route 110 between La Tecomaca and the Jalisco border"
Ports in the region are historically strategic. The Spanish Empire's "Acapulco Galleon" trade fleet first connected them to Manila, Philippines (level 2, "exercise caution"). More recently, Mexico's President Calderon launched a near-continuous drug war in Michoacán in 2006. The region's Lazaro Cardenas port is well militarized and one of the busiest on the Pacific Ocean, The Washington Post noted. In 2007, the Lazaro Cardenas and nearby Manzanillo ports produced record-setting drug seizures from inbound Hong Kong-flagged vessels, finding a total of 42 tons of hard narcotics and precursors.
The Lazaro Cardenas case illustrated the ports' position at the confluence of legal and illegal business. Accused of criminal conspiracy in the July case, well-connected Chinese-Mexican pharmaceutical entrepreneur Zhenli Ye Gon left $206 million cash at his Mexico City mansion and fled to the United States. He was arrested days later at a restaurant outside Washington, D.C., the Houston Chronicle reported at the time. While in custody, Ye Gon proved central to a $43 million Department of Justice-Las Vegas Sands money laundering deal. Ye Gon was never designated a U.S. Treasury kingpin for sanctions, however. DOJ dropped his case in 2009 and extradited him back to Mexico to face a supermax federal prison term in 2016 after a seven-year fight, according to the BBC. Given the significance of Mexico's Pacific ports at crossroads for legal and illegal drug trafficking, "do not travel" is a high-stakes state advisory to issue. The map below from gCaptain illustrates the modern trade concept of using Mexico's Pacific ports to land Asian products for U.S. distribution via the Laredo port of entry in Texas. The semi-automated port facility opened in April 2017 with double-digit throughput gains, according to Container Management. The Lazaro Cardenas port city is so pivotal, it was specifically exempted from State's Level 4 "do not travel" advisory for Michoacán.
Further north, Sinaloa (Level 4, "do not travel") on the Gulf of California was the same subsistence farming region of lawless mountain canyons where Chinese railroad builders introduced poppy cultivation at the turn of the 20th Century, according to The Washington Post. In 2017, the U.S. government extradited two notorious Sinaloa men. Foremost among them: "the world's most powerful drug trafficker", El Chapo Guzman; designated by President Bush in 2001; brought to Brooklyn in 2017. Second, the DOJ apprehended a 2014 U.S. Treasury kingpin, Sajid Emilio Quintero Navidad, cousin to Rafael Caro Quintero, who is a free man and one of President Clinton's original June 2000 sanction targets. Treasury designated two new operations still in business: a Sinaloa family-based opium and heroin outfit known as Ruelas Torres, allied with Meza Flores; and a money laundering network of 21 Mexican nationals and 42 business entities known as the Flores Organization that worked for kingpins across the West Coast, like the CJNG and Los Cuinis.
Violent competition fills power vacuums. The Congressional Research Service in October 2017 found Sinaloa power "[broke] into factions, with inter- and intra-organizational tensions spawning increased violence". SEDENA, Mexico's version of the Department of Defense, concurred in 2017. Despite targeted Gulf of California carnage, particularly in Baja California South, DoS advised travelers to "exercise caution" (Level 2) there.
Due east from Baja California, DoS also advised "do not travel" (Level 4) to Tamaulipas on Texas' Gulf Coast border. Federal employees are subject to a curfew. Tamaulipas is home to the Laredo borderplex where Kansas City Rail links Mexico's Pacific ports to the American Midwest. Violence escalated in the aftermath of Mexico President Pena Nieto's April 2017 hunt for Gulf Cartel and Los Zetas lieutenants. The months-long campaign featured 900 Mexican soldiers, helicopter-mounted miniguns, and dozens of dead cartel shooters.
In 2018, the State Department wrote that "gang activity, including gun battles, is widespread." The U.S. DEA administrator from 2008 to 2015 explained to Congress that bloodshed was the cost of doing business:
[T]he violence we are seeing in Mexico is unprecedented, but it is not surprising. It is a symptom of the pressures DEA and the Mexican government are inflicting on the Mexican drug cartels.
By the standard of violence signalling success, 2016 and 2017 were the best years since 2010 and 2011.
Good data and exact accounting remains elusive in Honduras (Level 3, "reconsider"). Last May, two Inspectors General (both State and DOJ) dismantled lies to Congress about lethal counternarcotics events, including innocent death, in Honduras. By August 2017, former Honduran cabinet official, Yankel Rosenthal Coello, from the sanctioned Rosenthal banking family, pleaded guilty to federal commerce and money crimes. Last month, Honduras held a questionable presidential election that featured clandestine recordings of officials planning fraud, according to the Economist, and a software outage the night of voting. After a month of ballot counting, the incumbent president, and frequent partner to John Kelly at U.S. Southern Command (now White House Chief of Staff), emerged the winner. Days later, Honduras and Guatemala voted with the U.S. at the United Nations to support the American Embassy in Jerusalem. Concurrently, 88,000 Hondurans in the U.S. waited to learn the fate of their Temporary Protected Status (TPS) which began January 5, 1999 and is scheduled to end July 5, 2018.
The new travel advisories occurred the same week that Homeland Security decided the termination of TPS for 210,000 Salvadorans residing predominantly in Southern California, Nevada, Texas and the greater D.C. metro area. Those 210,000 are a little more than three percent of El Salvador's entire population. In State's advisory to "reconsider" travel to El Salvador (Level 3), it noted "violent crime…is common. Gang activity… is widespread."