Amid events by various political action groups calling for students to walk out of classes and protest for stricter gun control following the Parkland, Florida, shooting, one Texas school district said students will not be permitted to participate on their campuses and if they do, they will be suspended for three days.
The Needville Independent School District posted a statement from Superintendent Curtis Rhodes on the Needville High School page. He called school "a place to learn and grow educationally, emotionally, and morally." Rhodes added that they will not tolerate disruptions.
"The Needville ISD is very sensitive to violence in schools including the recent incident in Florida," but it will "not allow a student demonstration during school hours for any type of protest or awareness!!," wrote Rhodes, adding that "anytime an individual chooses to harm others, we are sensitive and compassionate to those impacted."
"There is a 'movement' attempting to stage walkouts/disruptions of the school through social media and/or other media outlets," noted the superintendent. He added, "Should students choose to do so, they will be suspended from school for three days and face all the consequences that come along with an out of school suspension."
The post continues on to say that life is about choices "and every choice has a consequence whether it be positive or negative." Rhodes advised the school district will discipline regardless of whether one, 50, or 500 students choose to walk out of class and protest by suspending them for three days. He added that a parent's note will not be accepted to "alleviate the discipline."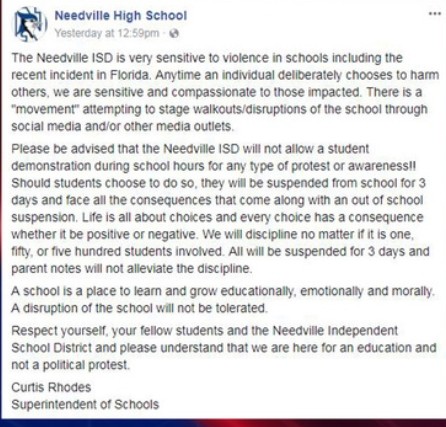 Rhodes closed his statement by telling students to "respect yourself, your fellow students, and the Needville Independent School District and please understand that we are here for an education and not a political protest."
Needville is located roughly 60 miles southwest of Houston.
Follow Merrill Hope, a member of the original Breitbart Texas team, on Twitter.
Editor's note: this article has been updated to include a screenshot of the original Facebook post from Needville ISD. The actual post appears to be removed or its privacy setting changed.