Dominick Cruz accuses T.J. Dillashaw of keeping it fake atop calling the champ disloyal, stupid, and a plagiarist of his footwork.
"He's fake and he doesn't have a whole lot of loyalty to the people who brought him up in the sport," Cruz tells Breitbart Sports. "He's plays a good act on camera. But off camera I see two different people."
Dillashaw regards Cruz's verbal antics as "childish." He explains to Breitbart Sports, "He's just trying to pick at anything just because he likes to talk trash and I'm more of a respectful fighter. He's making a fool of himself and I'm going to prove that on the night of the fight."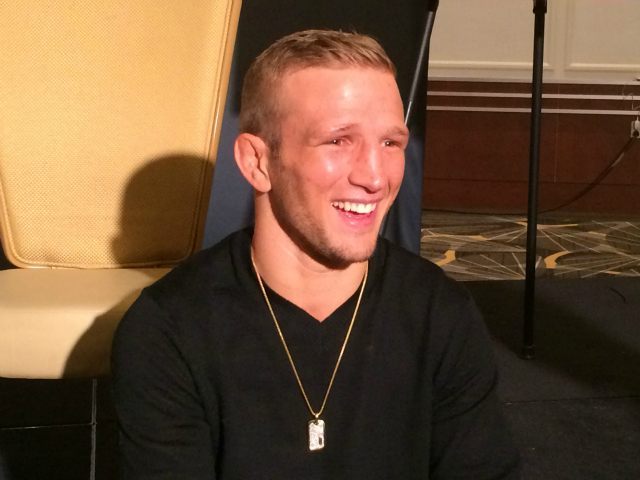 On Sunday at the TD Garden in Boston, Cruz returns from knee problems to make a fool or a champion of himself by challenging for the bantamweight belt he once held but lost due to injuries. Fox Sports 1 broadcasts and Breitbart Sports provides coverage octagon-side.
Cruz long ridiculed Urijah Faber's Team Alpha Male as "Team Alpha Fail." Though Dillashaw no longer trains in Sacramento, the Team Alpha Male ties continue to serve as fodder for trash talk. Cruz uses the schism to simultaneously accuse nemesis Faber of jealousy at his former mentee's success and Dillashaw of disloyalty to the camp that transformed him from a pure wrestler to a complete mixed-martial artist displaying great boxing and elite footwork. When Team Alpha Male striking coach Duane Ludwig set up his own gym in Colorado, Dillashaw eventually went with him. The move engendered such bitterness in Faber that he banned Dillashaw from training at his facility on visits home to California. But Dillashaw reasons that Ludwig more than Team Alpha Male helped craft his success and training at altitude rather than sea level provides an edge for this and other future fights.
"Faber doesn't like him much because Faber couldn't get the belt and T.J. did," Cruz notes to Breitbart Sports. "And then he left Faber when Faber could have finally gotten some credit for building a champion. T.J. left and gave all the credit to Ludwig because Ludwig came through and took him. Faber didn't like that."
The 20-1 Cruz lost his only professional bout via guillotine choke to Faber. He exacted his revenge in the rematch. But the rivalry between the bantamweight who fights out of San Diego with Faber's group that trains out of Sacramento perseveres even when a mixed-martial artist who no longer trains with Team Alpha Male competes against Cruz. Team Alpha Male remains present in its absence.
"Faber put in a lot of time and money on T.J. to build him into a good athlete," Cruz reasons. "There's no question about that. He's been with him for years. So, why would he like that?"
The schism that brings Dillashaw pain brings Cruz pleasure. It's a scab the Dominator likes to pick at. Whether the wound, or the mindgames played by Cruz, pays dividends for the challenger or motivates the champion remains for fists—and knees, elbows, and feet—to decide.