Director Anna Mastro pines for the day when Hollywood falls in love with movie musicals all over again. But when it came time to direct her own, she realized she didn't know the first thing about writing a song.
So she asked a colleague to suggest someone who could help her create songs for her planned short musical "Bench Seat."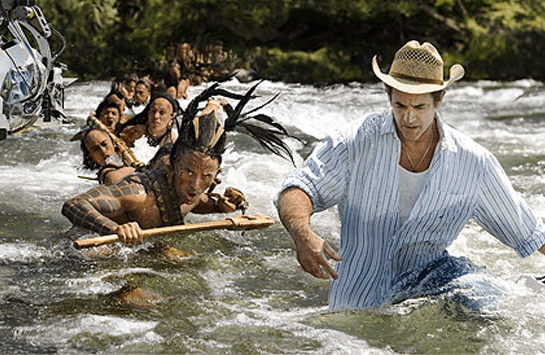 She ended up choosing someone far too young to remember Hollywood's musical era but clued in enough to the vagaries of the human heart to deliver what she wanted.
Mastro's short film "Bench Seat," which recently screened at the Starz Denver Film Festival, bounces along to music created by wunderkind Teddy Geiger (CBS's "Love Monkey"). The story finds a young couple at a romantic crossroads. Geiger's theatrical songs yield a number of catchy sequences, with Mastro deftly maneuvering from narrative necessities to the fantastical spirit movie musicals require.
In "Bench Seat," the lovely female lead (Cassie Scerbo) longs to take her relationship to the next level, while her beau (Kyle Riabko) isn't sure he even wants to stay with her. But the intense look in her eye, and the stories of her recent ex, warn him to think twice before breaking up just yet.
If that sounds like the kind of dark twist Neil LaBute might bring to the standard teen romance, you're right.
LaBute, the corrosive writer/director behind "Your Friends and Neighbors" and other button-blasting dramas, wrote the screenplay for "Bench Seat" while allowing Mastro to bring her musical sensibilities to the project.
Mastro, a Seattle native, moved to Los Angeles at the tender age of 19 and quickly found work at Wonderland Sound and Vision where she assisted director McG on "Charlie's Angels: Full Throttle" and later tackling both commercials and reality shows like "The Pussycat Dolls Presents: The Search for the Next Doll," which she co-created and produced.
She then moved on to directing music videos for Train, Matt Goss, The Exies and Carbon Leaf.
Along the way she interned for Mark Kanton and George Clooney, and those connections led her to meet LaBute.
Having LaBute's name attached to her short film wasn't enough to guarantee financing. So, she leaned on her rolodex to assemble her cast and used Kickstarter.com to raise enough cash to make the jaunty film a reality. The web site allows filmmakers to raise money for projects through public outreach
"A lot of people donated five and ten dollars. It was really amazing," she says, although most of the project's 138 backers were friend or contacts she had made during her still young career.
Getting the right actors to play the leads took some effort.
"It's a lot to sing, dance and deliver a Neil LaBute script and not get paid for it," she says. Mastro eventually found "Make it or Break It" star Cassie Scerbo and Kyle Riabko (Broadway's "Spring Awakening") to bring the story's tortured romance to life.
"Bench Seat" helped Mastro land an agent, and now she's pondering ways to bring a full-length musical to the big screen. It's only in outline form at the moment, but she's noticed that Hollywood's typically hard line regarding musical projects has softened over the last two years. She's confident the audience will be there for it, even if the recent musical "Footloose" failed to draw a big crowd.
"Who is outlawing public dancing? That turned a lot of kids who would see that movie off," she says of why the film didn't become a breakout hit. "'Glee' has opened the door for studios. If the right musical comes out now, you have the right audience for it."