Excitable progressives showed just how emotionally charged and intellectually stunted they are by hysterically over-reacting to an excerpt of a Nicki Minaj track wherein she mentions Mitt Romney. "Uncle Tom" insults also made an appearance.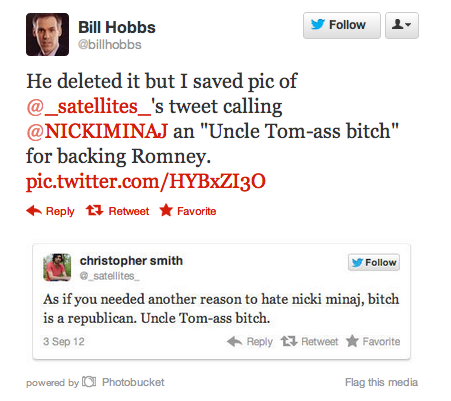 The track?
Some have asked whether or not Minaj was herself endorsing Romney or rather mocking those who do; I think the latter. When she says "I'm a republican voting for Mitt Romney" she's quoting someone in her song. She replies by saying "You lazy b*tches are f*cking up the economy."  
Unless she comes out and says otherwise, which I suspect she will considering the mob reaction of Borg-like leftists, I'm inclined to think she's mocking the candidate. She's entitled to her free speech, regardless her intent. It's a shame that the left, the ideology of "diversity" and "tolerance," demonstrated racial prejudice and violent threats as its knee-jerk reaction. Tells you all you need to know, does it not?