What a sad state of affairs that after perusing all the Major Hollywood Trades this morning, it was at Cinema Retro that I finally learned of Andrew V. McLaglen's demise. The man deserves better. Much better. McLaglen, the legendary director of (among others) "McLintock!," "Chisum," and "Bandolero!", died last week Friday at age 94.
McLaglen was the son of Victor McLaglen, 1935's winner of the Best Actor Oscar, who's probably best-remembered for his many character roles as the lovable, me darlin' Irish drinker and brawler in numerous John Ford films. The younger McLaglen got his start in various behind-the-scenes jobs under Ford, and would later assume the role of assistant director on a number of non-Ford John Wayne films
McLaglen became a full-fledged director in his own right on television. His specialty was Westerns. During the heyday of the small screen oater, McLaglen helmed some of the biggest, including "Rawhide," "Have Gun — Will Travel," "The Virginian," and 96 episodes of "Gunsmoke."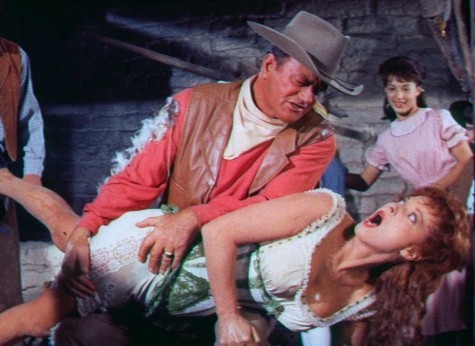 McLaglen's debut as a feature film director came in 1956 with "Gun the Man Down" (Wayne was a producer), a forgettable Western starring James Arness and Angie Dickinson (in her first big role). There would be a few more before McLaglen, at age 43, hit his stride with the 1963 classic "McLintock!," a rollicking Western-comedy starring John Wayne and Maureen O'Hara.
From there, McLaglen was — in my opinion — almost singlehandedly responsible for showing Hollywood how to keep the widescreen Western alive into the '60s and '70s. "Shenandoah" (1965), "The Way West" (1967), "The Devil's Brigade" (1968), and "Bandolero!" (1968) led the way when it came to adding grit, realism, violence, and a knife edge to a genre that very much needed to distinguish itself from what was on television.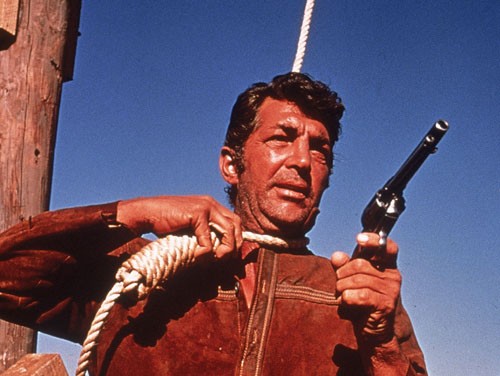 Using tried and true screen legends such as James Stewart, Kirk Douglas, a pre-"Wild Bunch" William Holden, Richard Widmark, Cliff Robertson, and Dean Martin, McLaglen gave these middle-aged legends the opportunity to show a darker, more complicated side of their screen personas. In some cases, they played outright anti-heroes and worse. Films like these helped to extend the career of many a Golden Age Giant — and fans like myself can't even begin to express how grateful we are for that.
McLaglen is probably best remembered for his many collaborations with Wayne: "Hellfighters" (1968), "The Undefeated" (1969), "Chisum" (1970), and "Cahill U.S. Marshal" (1973) were all successful, are still beloved by Wayne's millions of fans, and kept The Duke at the top of the box office well into his Social Security years.
The close of the Andrew McLaglen Western-era finally arrived in 1976 with the fittingly titled "The Last Hard Men," a deliciously nasty and unforgettable revenger that pits Charlton Heston against James Coburn.
In 1978, McLaglen delivered "The Wild Geese," one of those great mercenaries-on-a-mission adventures. In this case the mercenaries were Richard Burton, Richard Harris, and Roger Moore. Two years later "The Sea Wolves," McLaglen's last memorable film, teamed Gregory Peck, David Niven, Roger Moore, Trevor Howard, and Patrick Macnee in the kind of WWII adventure we will never see again.
There would only be three more films before McLaglen finally retired in 1989. According to Cinema Retro, he lived out the rest of his life serenely in rural Washington state.
In my Bluray review of "McLintock!" back in May, I singled out McLaglen as an unheralded director, who successfully hand-delivered the Western through the troubled 1960s — the end of the Production Code and a massive national social upheaval. Many of his films touched these issues, especially race relations and the generation gap.
Regardless of the issue, McLaglen would explore it through the themes that ran throughout almost all of his work: The dignity of the individual, standing up for yourself, taking responsibility, keeping your word, and being your own man.
McLaglen's true creative gift, though, came from his ability to direct Men.
Whether they were difficult, heroic, cowardly, villainous, virtuous, demented, honorable, twisted, charming or a mixture of same, McLaglen never failed to give us larger-than-life Men being Men in all their fascinating and complicated Manliness.
Andrew McLaglen was an exceptional director whose art has brought untold hours of joy to my life, and will continue to.
May he rest in peace.
Follow John Nolte on Twitter @NolteNC