Game developer Eidos Montréal finds itself the target of faux outrage for incorporating an analogy of social oppression into its new game Deus Ex: Mankind Divided via the term "mechanical apartheid." The victims of this system make up 10% of the population in the game and are targets of prejudice for having robotic implants.
Given the racial history behind the term "apartheid," critics claimed the use of this phrase was problematic. However, the two developers who conceived of and coined the phrase "mechanical apartheid" are black and Asian.
https://twitter.com/avestal/status/610946918538170368
@akash_singh101 @avestal Apartheid isn't just a general term, it references a specific period of great trauma and oppression.

— austin walker (@austin_walker) June 16, 2015
Austin Walker is an editor at gaming site GiantBomb.
i'm sorry i think i blacked out after the white lady said "mechanical apartheid"

— alice @ home zzz (@lostliddell) June 16, 2015
@DSogz I know what it means, but translation doesn't mean it's a good appropriation. There's history specific to the Afrikaans word.

— Ludwig Kietzmann ☕ (@LudwigK) June 16, 2015
Ludwig Kietzmann is the Editor in Chief of GamesRadar+.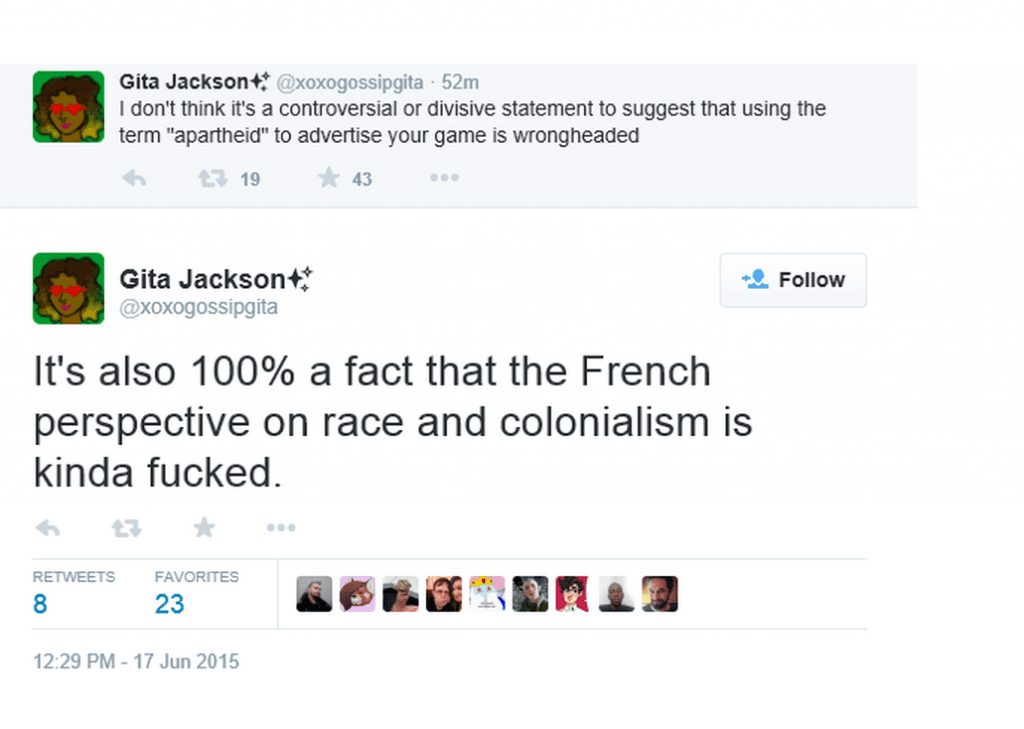 Gita Jackson is a writer for gaming site Offworld.
Gilles Matouba is the black developer who was game director for Deus Ex: Mankind Divided. In a post on the #GamerGate subreddit KotakuInAction, Matouba expressed his frustration with the criticism being directed at him and his work.
Rationalizing why he and Eidos brand director André Vu created "mechanical apartheid," Matouba stated that "somehow, it was our own individual stories… We wanted to share a little part of our own life experience (on a super dramatized degree, of course) as visible minorities in a world of prejudices sometimes not well tailored [sic] for us."
Responding to the complaints, the developer said, "it makes me sad and angry that these ignorant people just ASSUME that everyone behind this game is ill-spirited, stupid, and more importantly for me, that they that they [sic] are all WHITE. (For them devs==white, gamers==white)."
He continued, stating that "these bloggers and tweeters… have degraded me and have literally erased my identity as a black developer and as a black creator that just wanted to share a piece of himself with this game."
Matouba finished by saying that "they don't deserve our industry, our games and the dedication we put into them. They disgust me."
Responding sarcastically to the criticism of "mechanical apartheid," Elias Toufexis, the voice actor for Deus Ex protagonist Adam Jensen, made the following remark:
How dare videogames attempt to explore serious social and political issues? Stupid totally white male game devs.

— Elias Toufexis (@EliasToufexis) June 17, 2015
A Ubisoft Reflections lead level designer and an indie developer at Vlambeer also spoke out:
@GGMatouba Thanks 4 sharing your very important voice, Gilles. This is heavy stuff, and it's inspiring when one can help move things forward

— Manny Diaz (@MannyJDiaz) June 18, 2015
Since people are asking: I have nothing against a game covering "mechanical apartheid" if it is dealt with respectfully and appropriately.

— Rami Ismail (@tha_rami) June 18, 2015
Follow Rob Shimshock @Xylyntial on Twitter.