Welcome to the Breitbart News Oscar Night LiveWire — Look for updates through the night… 
—
12:05 – Really dull, dreadfully painful telecast.
11:58 – BEST PICTURE – "Spotlight"
11:54 – BEST ACTOR – Leonard DiCaprio "The Revenant."
Well deserved.
"Climate change is real. It is happening right now. It's the most urgent threat facing our species," Leo tells us.
11:43 – BEST ACTRESS – Brie Larson "Room"
11:35 – BEST DIRECTOR – "The Revenant" Alejandor G. Inarritu.
Inarritu won last year for "Birdman," and made a speech about the color of people's skin, or something.
11:27 – BEST SONG – That awful title song from "Spectre," which is dedicated to LGBT people all around the world.
Chris Rock comes out and says, "No joke there. I'm not going to get into trouble."
11:19 – BEST ORIGINAL SCORE – Ennio Morricone for "The Hateful Eight."
How in the world did it take until 2016 for Morricone to win an Oscar. The man is so old, he has already been awarded an Honorary Oscar. Finally, some Oscar justice.
11:14 – Lady Gaga's song is about sexual assault — which is rich coming from the same Academy that awarded fugitive child rapist an Oscar about 15 years ago.
11:13 – Only a week or so to go.
11:09 – Joe "They're gunna put y'all back in chains" Biden makes a speech about campus sexual assault and then introduces "my friend and a courageous gal, Lady Gaga."
—
Really getting a lot of much-appreciated moral instruction with this show… *oscars

— Kurt Loder (@kurt_loder) February 29, 2016
 —
11:06 – TV star Sofia Vergara presents BEST FOREIGN LANGUAGE FILM – "Son of Saul"
11:03 – It's after 11 pm and we are only awarding BEST LIVE ACTION SHORT – "Stutterer"
10:58 – In Memoriam segment anchored fittingly by Leonard Nimoy.
10:53 – The Academy president is giving a speech Academy-splainin' what they are doing to avoid another all-white Oscar debacle.
10:48 – Chris Rock returns to the Girl Scout cookie gag. Oh, joy, it's a running joke.
10:41 – BEST DOCUMENTARY FEATURE – "Amy"
10:38 – BEST DOCUMENTARY SHORT SUBJECT – "A Girl In the River."
10:37 – Louis CK is a presenter. Another television star. It's the Emmys, y'all. I'm waiting for Erik Estrada.
10:27 – BEST SUPPORTING ACTOR – Mark Rylance "Bridge of Spies."
Stallone wuz robbed.
Oscar had an opportunity to award a legend and put a real movie star on the stage. What a whiff.
10:25 – More tired Oscar-Is-Not-Black-Enough jokes. Chris Rock is doing man-on-the-street interviews in Compton.
10:20 – Only two more days to go.
—
—
10:10 – BEST ANIMATED FILM – "Inside Out"
10:08 – BEST ANIMATED SHORT -"Bear Story"
10:07 – Horribly unfunny Minions introduce the 212th category no one cares about tonight.
10:06 – Chris Rock selling Girl Scout cookies made me long for Rob Lowe singing to Snow White.
10:02 – Only 8 hours to go.
—
—
10:01 – The commercials are better than the show…
10:00 – C3POand R2D2 bombing in lame skit.
9:57 – From Jerome Hudson – Stacey Dash Gets The Last Laugh: Brilliantly Mocks the Liberals Who Cast Her a Sellout
After being lambasted by both black and white liberals for simply insisting that "We are all Americans," and that "Black History should be apart of history curriculum EVERYDAY OF EVERY MONTH OF EVERY YEAR. not just 28 days out of 365," actress Stacy Dash appeared on  the Oscars stage as the "director of our new Minority Outreach Program" and said: "I cannot wait to help my people out. Happy Black History Month!"
—
And the winner for least funny #Oscars bit goes to @FoxNews' @REALStaceyDash: https://t.co/p0FsTAtxPe pic.twitter.com/Qao1iRSKsv

— Matt Wilstein (@TheMattWilstein) February 29, 2016
—
To the untrained or (like me) the intoxicated eye, Dash's appearance seemed to have fallen awfully flat. The audience reaction to Dash was a mix of confusion and shock. But those words perfectly describe an Oscar night where a room full of proud liberals–black and white–are too rapped up in their own egos to realize that they've been the butt of the joke the entire time.
In a stroke of artistic sagacity, Stacey Dash was the one who got the last laugh: "Cast me a sellout, I'll take that. But when I look myself in the mirror, unlike you people, I know my conscience is clear. I'm free."
9:56 – BEST VISUAL EFFECTS – "Ex Machina."
You should shut off this awful Oscar telecast and watch "Ex Machina" on Netflix instead.
9:54 Andy Serkis makes the first Donald Trump joke of the night. Everyone asks, "Who's Andy Serkis?"
9:50 BEST SOUND MIXING – "Mad Max: Fury Road"
Technical Oscar number 6 for "Mad Max."
9:47 – BEST SOUND EDITING – "Mad Max: Fury Road"
Technical Oscar win number 5 for "Mad Max."
9:44 – Drudge is correct. This Oscar telecast feels more like the Emmys. Jennifer Garner? Jared Leto? Where are the movie stars?
9:43 – Only 7.5 hours to go.
—
—
9:41 – More tired jokes about #OscarsSoWhite. Black History Month means Jack Black. Get it .. Jack BLACK.
9:40 – BEST EDITING – "Mad Max: Fury Road"
That is 4 technical Oscars for "Mad Max."
9:36 – BEST CINEMATOGRAPHY – "The Revenant."
A no-brainer win. The film is a visual masterpiece using only natural light.
9:32 – "Dull, Smutty and Star-Less"
—
Stacey Dash appearance wasn't set up well.

Except for Rock's monologue, the show has been dull, smutty, and star-less.

— John Nolte (@NolteNC) February 29, 2016
 —
9:28 – Only 7 more hours to go.
—
—
9:25 -BEST ACHIEVEMENT IN MAKE-UP AND HAIR STYLING – "Mad Max: Fury Road"
That is three technical Oscars for "Mad Max."
9:24- Video of Chris Rock's opening monologue
—

—
9:23 – BEST PRODUCTION DESIGN – "Mad Max: Fury Road"
9:19 – BEST COSTUME DESIGN – "Mad Max: Fury Road" – The winner warns that "Mad Maz" could happen if we continue to pollute our world … by doing things like make movies like "Mad Max."
9:18 – Obama donors told not to vote for candidates who take money from big banks
—
"Don't vote for candidates that take money from big banks." — Adam McKay to a roomful of Obama donors.

— Kyle Smith (@rkylesmith) February 29, 2016
—
9:16 – Drudge asks — "Where are all the A-listers tonight?"
—
WHERE are the A-Listers tonight? Boycotting? Don't recall such lackluster star quality. Their biggest and brightest is Joe Biden?! #Oscars

— MATT DRUDGE (@DRUDGE) February 29, 2016
—
9:14 – Only 6 more hours to go.
—

—
9: 12 – From Jerome Hudson – Chris Rock: "Hollywood Liberals" Won't Hire Black People
Oscars host Chris Rock in his opening monologue successfully combined searing comedy and social commentary as he exposed Tinsel Town's problem with race.
Surely Rock's ribbing of Hollywood liberals made many of them feel squeamish. The performance was remarkable considering such cutting self-criticisms of liberal sins have become a real rarity.
—
Chris Rock's opening monologue would have been protested on many college campuses #Oscars2016

— Nick Gillespie (@nickgillespie) February 29, 2016
—
Rock received the most laughs and groans from his star studded audience when he declared an indictment that most in his presence already know:  It's Hollywood liberals who are the racists who won't hire black people.
9:08 – BEST SUPPORTING ACTRESS – Alicia Vikander for "The Danish Girl."
—
Not only have I not seen any of the Best Supporting Actress nominees' movies, I have no interest in seeing any of them. #Oscars

— Derek Hunter (@derekahunter) February 29, 2016
—
9:04 – Sarah Silverman introduced the "Spectre" title song with a bunch of raunchy (and unfunny) jokes about James Bond's sex life. I'm sure National Review's Jonah Goldberg speaks for many parents…
—
Shockingly, thanks to Sarah Silverman, I'm regretting I told my daughter we would watch the Oscars.

— Jonah Goldberg (@JonahNRO) February 29, 2016
—
9:03 – Because the show isn't already long enough, everything stops for 10 minutes so we can hear the awful title song from the awful James Bond movie "Spectre."
9:00 – In a very awkward moment, black conservative Stacey Dash had a walk-on where she said, "I cannot wait to help my people out. Happy Black History Month!"
The joke bombed because it made no sense.
8:58 – Montage of Oscar-nominated movies with CGI'd black actors added. This is already getting old. And you have to wonder how those who take the issue seriously will feel about seeing it milked for cheap laughs.
8:55 – Only 6 more hours to go.
8:49 – BEST ADAPTED SCREENPLAY – "The Big Short"; Charles Randolph and Adam McKay.
McKay urges people not to vote for people who take money from big banks and billionaires.
Bernie Sanders is somewhere smiling,
McKay is a very political guy — multi-millionaire left-winger who is partners with the same Will Ferrell who just switched his endorsement from Bernie to Hillary Clinton.
8:47 – Celebs heap praise on Chris Rock monologue.
—
Best opening monologue in Oscar history.

— Jesse Tyler Ferguson (@jessetyler) February 29, 2016
—
Welp @chrisrock murdered #oscars

— Amy Schumer (@amyschumer) February 29, 2016
—
Watching @chrisrock kill it on the Oscars.
Good job Chris.

— Sinbad (@sinbadbad) February 29, 2016
—
Quite possibly the best opening monologue to the Oscars. #greatfuckingwriting. @chrisrock

— Chelsea Handler (@chelseahandler) February 29, 2016
—
8:46 – BEST ORIGINAL SCREENPLAY – "Spotlight"
8:44 – The Oscars will present the non-acting awards in the same order as a film as made. So we start with Best Original Screenplay.
8:40 – Great monologue by Chris Rock. Managed to make his point without being divisive or nasty. Also mocked the boycott and political correctness.
8:33 – Oscar host Chris Rock comes out and immediately mocks the all-white Oscars. "If they nominated hosts, I wouldn't be here. … People told me to not to do this. But the only people who tell you not to do stuff like this are people who don't have jobs. … I couldn't afford to lose another job to Kevin Hart."
"Jada Pinkett boycotting the Oscars is like me boycotting Rihanna's panties. I wasn't invited."
"This year the In Memoriam package is just gunna be black people shot by the cops going to the movies."
"If you want black people nominated, have black categories, like Best Black Friend… And tonight's winner for the 18th year in a row is Wanda Sykes."
At a fundraiser — "Mr. President, do you see all these white producers and directors? They don't hire black people, and they are the nicest white liberals in the world."
"We want opportunity. We want the same opportunity as white people. … Leonardo DiCaprio gets a great part every year. Why not Jamie Foxx. He was so good in "Ray," they unplugged the real Ray from life support."
8:26 – Project Islamic Hope leader Najee Ali Speaks at #OscarsSoWhite Protest – Video by Breitbart's Daniel Nussbaum
—
—
8:22 – Mark Ruffalo is interviewed on the Red Carpet. The most interesting thing I learned is that his wife's name is Sunshine.
8:18 – Al Sharpton promises, "This will the last night of an all-white Oscars" – Video by Daniel Nussbaum
—
—
8:15 – Report: Three black people will attend tonight's Oscars.
—
Fans' announcer just asked crowd, "How many African-Americans are here tonight?" Silence. Pause. "Three?" #Oscars pic.twitter.com/TLaPEqQC1u

— Janice Min (@janicemin) February 29, 2016
—
8:13 – Chris Rock putting the finishing touches on his monologue. ABC is pretty excited about the rainbow pen.
—
Cutting the fat off my monologue #oscars pic.twitter.com/ngMQD6LAkt

— Chris Rock (@chrisrock) February 29, 2016
—
8:08 – These creeps seem to pop up everywhere, that includes the Oscars tonight: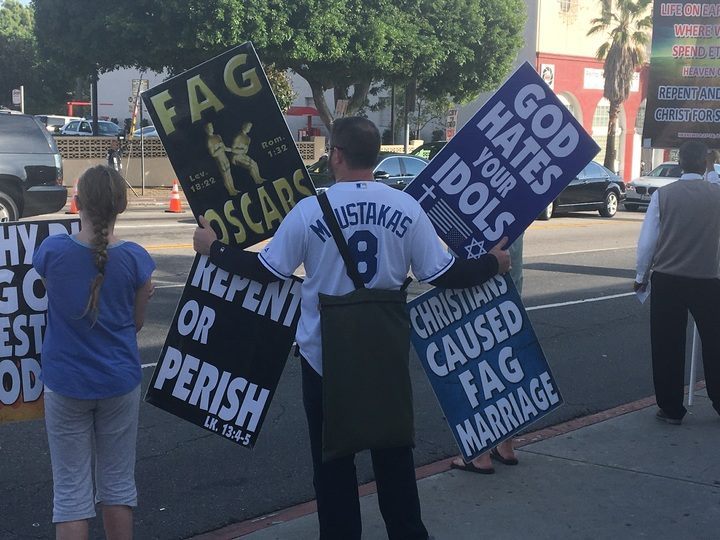 8:01 – Photos from Al Sharpton's #OscarsSoWhite protest taken by Breitbart's Daniel Nussbaum, who is on the scene: