Sarah Silverman's Twitter account was apparently hacked shortly after the actress and comedian delivered a speech in support of Hillary Clinton at the Democratic National Convention in Philadelphia on Monday.
"MY TWITTER ACCT GOT HACKED THIS IS NOT ME," the 45-year-old comedian tweeted earlier this week, after an anti-Hillary Clinton video produced by the hacker group Anonymous was posted to her Twitter account.
MY TWITTER ACCT GOT HACKED THIS IS NOT ME https://t.co/hmZYLdrjxi

— Sarah Silverman (@SarahKSilverman) July 27, 2016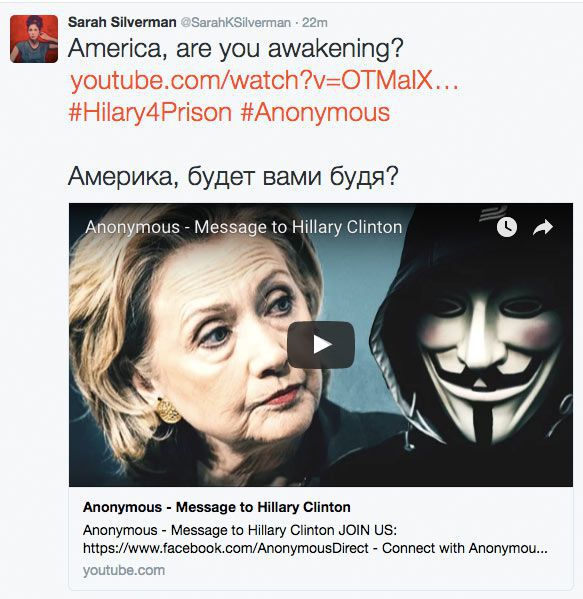 Silverman — one of Vermont Sen. Bernie Sanders's (I-VT) earliest Hollywood supporters — delivered a rousing endorsement of Clinton during the first day of the Democratic National Convention earlier this week, though she was booed loudly by Sanders supporters for getting behind Clinton.
"Hillary is our Democratic nominee, and I will proudly vote for her," Silverman said. "I am proud to be a part of Bernie's movement, and a vital part of that movement is making absolutely sure that Hillary Clinton is our next President of the United States."
Over an increasingly loud convention hall, Silverman reprimanded diehard Sanders supporters who had not switched their presidential preference.
"Can I just say, to the 'Bernie or bust' people, you're being ridiculous," the comedian charged.
Still, in a tweet after her speech, Silverman posted a picture of Sanders, calling him "my hero, forever and always."
My hero forever & always. Lets make sure he has an ally in office pic.twitter.com/BmIrj1BsSA

— Sarah Silverman (@SarahKSilverman) July 27, 2016
Follow Daniel Nussbaum on Twitter: @dznussbaum