Several Twitter users have posted images purporting to show self-harm in solidarity with singer Beyoncé, who lost an earring during a performance Saturday, causing her ear to bleed on stage.
Using the hashtags #CutForBeyonce and #BleedForBeyonce, users posted pictures of their alleged cut ears and arms, bearing similarity to the #CutForBieber hashtag movement that sprung up in 2013 in protest of the then-recent discovery of Bieber's alleged marijuana-smoking habit.
"If the queen bleeds the hive must unify and leak our blood to restore her spirits. Beyhive we must #CutForBeyonce" posted one user, along with a picture of a cut arm that was originally posted during the 2013 #CutForBieber hoax.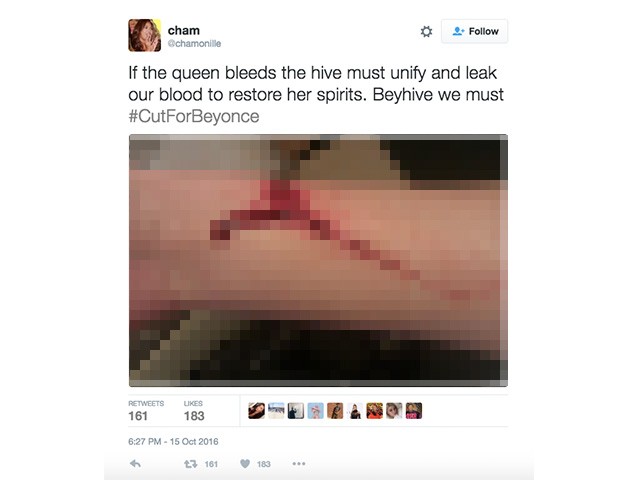 "I saw Beyoncé cut her ear so I cut my ear #CutForBeyoncé" posted another, along with a picture of someone else's mutilated ear. (The original can be found here).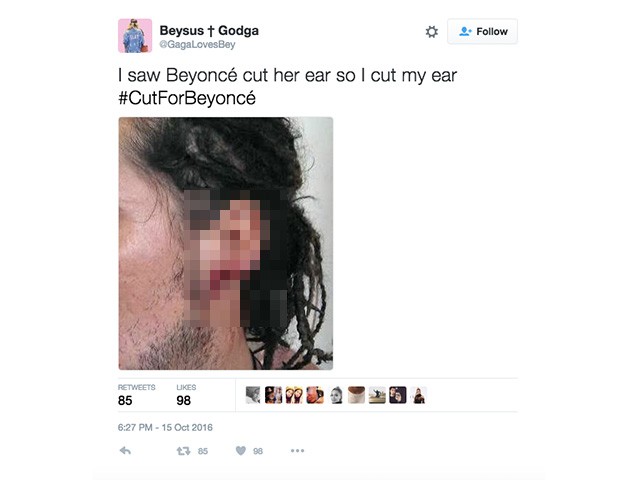 https://twitter.com/aaybels/status/787471021200859136
Others, including graphic photos of severed appendages, were obviously fake.
While the hashtags started to trend, the majority of posts consisted of messages encouraging people not to cut for the pop singer.
As a person who self injured for years. Please don't #cutforbeyonce or #bleedforbeyonce . Self injury and cutting is not a joke.

— Nyx Wolff-BahHumBug- (@badwolfreigns) October 17, 2016
@Beyonce should issue a statement before someone takes the whole #bleedforbeyonce thing too far & kills themself. Self injury is not a joke.

— Big Monster (@bigmonstermusic) October 18, 2016
I better not see none of y'all cutting yourself for Beyoncé smh. #CutForBeyonce and #BleedForBeyonce is ridiculous yo smh stop this BS.

— Lady Lupus💜💪🏽💃🏽 (@QueenPAC32) October 18, 2016
Beyoncé has yet to release a statement on the trend.
Charlie Nash is a reporter for Breitbart Tech. You can follow him on Twitter @MrNashington or like his page at Facebook.