Actor-comedian George Lopez sent a message to President Donald Trump: instead of deporting Latinos to make America's streets safer, he should "deport the police."
In a post published on his Instagram Friday, Lopez is seen standing next to a caption that reads, "The Trump administration is deporting Latinos to make the streets safer… You wanna make the streets safer deport the police."
The former Lopez Tonight host also said, "This is not an indictment of all Law Enforcement , some still just beat you #gacho #georgelopezonhbo #TheWall ( @momorodriguez #gracias."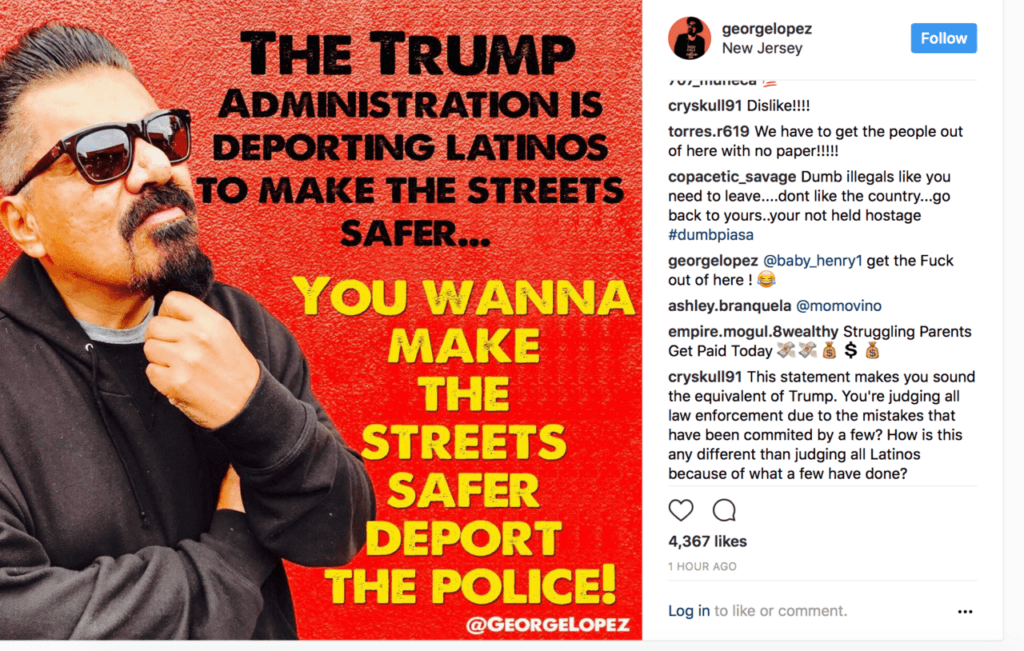 Lopez's Instagram account is now set to private, but an archive of the post can still be found online.
The Instagram caption caused outrage among many of the comedian's fans.
"This is a very irresponsible comment bro. You have really disappointed me bro, I thought you were better than that," wrote one commenter, who claimed to be a police officer.
"Not cool @georgelopez. I'm Latina and I've been pulled over more than enough times for speeding. All but one cop were nice and respectful," wrote another user. "I realize there are some bad apples in the bunch but your statement puts all cops in the bad bunch category. Please stick to comedy. You're not that funny when you bring politics into your posts."
Another commenter wrote, "Keep calm george…i got two brothers that are police officer ..and we are Mexican/Americans.."
"That comment is fck up many latinos who fought hard and became cops #alllivematter puto," wrote another.
Lopez has repeatedly attacked President Trump and American voters.
Last July, when asked about Trump's election odds, Lopez told TMZ that "there's enough racists in this country for him to get elected."
A couple weeks later at a show in Phoenix, Arizona, the comedian led a crowd in a chant of "fuck that puto." (Puto is Spanish slang for male whore.)
After the election, Lopez was even less gracious. When asked if he was willing to give President Trump a chance, Lopez said, "I'll give him a chance to suck my ass."
Follow Jerome Hudson on Twitter @jeromeehudson.