LOS ANGELES, CALIFORNIA — Hundreds of professional dominatrices began arriving in Los Angeles Wednesday for the eleventh annual DomCon, one of the largest conferences of bondage professionals in the United States. 
Held every year since 2004, DomCon is less about adult entertainment and more about the nuts and bolts of a niche fetishist industry that has thrived in California for decades and is rapidly entering the cultural mainstream as a literary and fashion genre.
The convention is the brainchild of Los Angeles-based dominatrix "Mistress Cyan," whose daughter was working the registration table at the Hilton LAX on Wednesday as the first arrivals checked in. 
The first DomCon was launched in 2004, and was held in North Hollywood, close to the hub of the adult film industry. Since then, DomCon has grown in size–and moved away from the margins. It has been at the Hilton since 2007.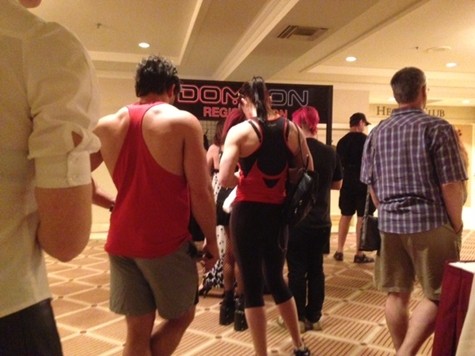 The success of erotic novels with bondage themes, such as Fifty Shades of Grey–which is set to be released by Universal Pictures and Focus Features next February–has generated broader public interest in bondage as a hobby. 
January Frost, a professional dominatrix from Boulder, Colorado, explained to Breitbart News that the relative lack of dominant females in the "civilian" world has created an economic opportunity for women.
"It's also a form of therapy," she says, referring to her craft. "I have often had people leaving a session in tears, saying, 'Thank you, thank you, no one ever understood that about me before.'" 
Frost is a repeat attendee at DomCon, and told Breitbart News that she was planning to attend a series of lectures, including one about how to sanitize bondage equipment. Other lectures on the schedule cover business practices, litigation and financial planning.
Professional domination is legal in most states, but laws differ throughout the country. Some states, Frost explained, ban any voluntary physical "impact." Sex is banned almost everywhere, and is not part of what dominatrices do, she said, even if they are catering to fantasy. 
DomCon lasts through Sunday, and features guests from around the world, making it "a large international event," according to the DomCon website.