A female driver in Bakersfield accidentally mistook a truck exit ramp rock pit for a carpool lane on Wednesday afternoon, and wound up getting stuck.
According to the local ABC News affiliate in Bakersfield, the California Highway Patrol came across the scene around 3:30 p.m. She had to be towed out of the rock pit to reach her destination. The scene reportedly took place near the exit ramp on the I-5 near Lebec.
"She thought it was a carpool lane, so she dove int that ramp and got stuck in it," Fort Tejon California Highway Patrol Public Information Officer Adriaan Garcia told Breitbart News. "That's what it's built for: to stop big rigs from going in there when they lose control and to stop any vehicle, really, that's out of control."
He told Breitbart News that it took approximately 20 minutes for the tow truck to pull the driver's car out of the rock pit, and that there were two juveniles with her in the vehicle. Although the officer on the scene, Officer Christolear, did not issue her a ticket, Officer Garcia pointed out that the female driver "had to cross over double yellow lines to get into the carpool lane" — an offense that could be ticketed and a point they made sure to warn her about.
Officer Christolear is seen posing in this picture below "lifting" a big rig that lost control of its brake on Tuesday. "A big rig lost his brakes and, instead of going into the ramp, it went into the mountain to avoid plowing into any cars," Officer Garcia told Breitbart News. No one was inured in the incident.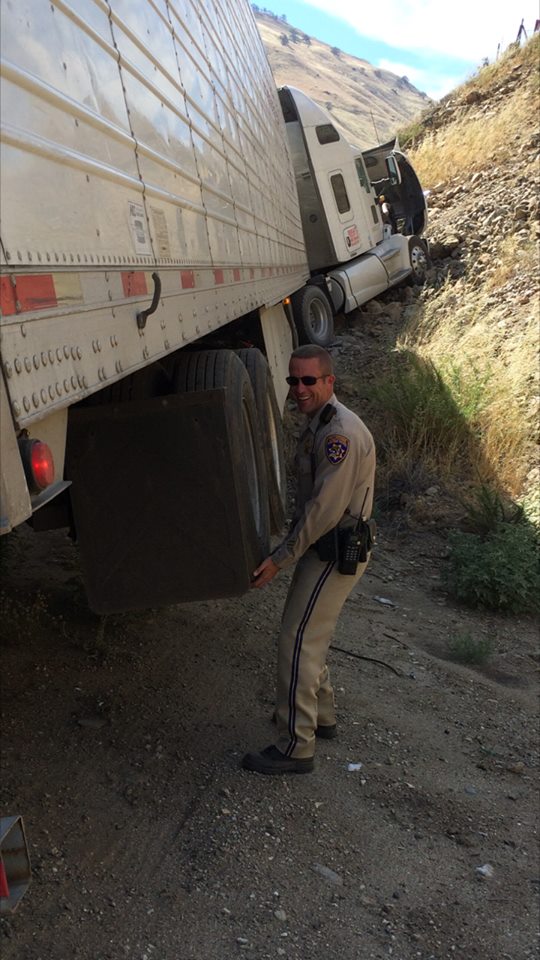 Last September, a bizarre video of a California woman who abruptly stopped her car in the middle of a road in La Habra and left the vehicle as it rolled into oncoming traffic went viral on YouTube.
Follow Adelle Nazarian on Twitter @AdelleNaz