ANAHEIM — Candace Campbell, an African-American woman who works as a contractor with the federal government, told Breitbart News on Sunday that she switched from Democrat to a Republican this election cycle in order to vote for Donald Trump because she believes "we need a strong man" in the White House.
"We need a man with balls," she said.
Campbell, 47, was attending the "Operation Taco Bowl" rally in front of Anaheim City Hall, which was put together by a group of Latinos who support Trump for president. The rally was named for an infamous Donald Trump tweet, which led Democrats to refer to Latino outreach as "taco bowl" outreach in a series of emails revealed by Wikileaks last month.
Campbell told Breitbart News that she does not believe Hillary Clinton is well-suited to be president because "she is too weak." Instead, she suggested that Hillary Clinton "needs to retire … What we're dealing with is very dangerous and we need someone very strong. She's not strong enough to deal with what we are dealing with inside our country," she said. speaking of terrorism and widespread corruption.
She added:
We need a strong, powerful woman. I mean a strong cookie. And women are rising. If it wasn't for women, men wouldn't be who they are today. We birthed them, we raised them, we clothed them, we taught them right from wrong. The men are the men because of the women, because of their mommas. And Hillary Clinton is not that strong powerful woman. She waited too long. It's too late for her. Her age caught up with her and that's why she has these health problems. She needs to retire.
Having only recently switched over to the Republican Party, Campbell said, "I've always been a Democrat and I've just switched over to the Republican Party due to the past couple of years; there are some things that I have been dealing with personally, that I've been fighting in the system."
She explained that due to her background in government and accounting, she is "very well aware of what's going on. And there's a lot of evil things going on with our economical resources right now that are being internationally controlled." She also stressed her belief that there are "sneaky and devious things within our visa system and our immigration system."
"These people are dangerous," she said of the Clintons. "It's mafia-style." She said it alarmed her to learn that "six people who were connected to Clinton and the Clinton Foundation mysteriously died. Six people who were connected to this woman and no one is paying attention to that."
A Latina mother and daughter who were at the "taco bowl" rally held up a hot pink sign with the names of a few of the individuals connected with the Clintons who had passed away. The sign was titled "Clinton Body Bags," and had the names Vince Foster, Seth Rich, John Ashe and Victor Thorn on it, with the dates of their deaths next to the names. It also had Julian Assange's name, with the abbreviation for "to be determined" next to it.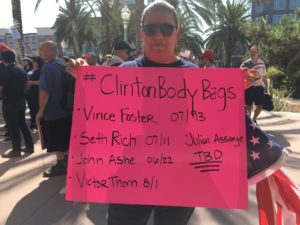 Seth Rich, 27, was a staffer for the DNC. A spokesman for the Rich family issued a statement earlier this month requesting a stop to the politicization of "this horrible tragedy," noting that the media's "attempts to do so, are actually causing more harm than good and impeding on the ability for law enforcement to properly do their job."
Campbell added, "I'm not going to vote for someone or something that if you say the wrong thing, you're dead. You have to choose wisely."
Follow Adelle Nazarian on Twitter @AdelleNaz