Former President Barack Obama campaigned Saturday in Anaheim, California, with Democrat Gil Cisneros, who is facing accusations of sexual misconduct from a fellow Democrat.
Obama took the stage next to Cisneros at a rally that featured all seven Democrats running for Congress in key districts targeted by the party in the state. Each district is currently represented by a Republican but voted for Hillary Clinton in 2016.
Obama seemed unperturbed by the allegations against Cisneros, declaring: "We could not be prouder of Gil."
As Fox News reported last week:
Democratic activist and documentary filmmaker Melissa Fazli, who ran an unsuccessful primary ampaign for a state Assembly seat in California, accused Cisneros of propositioning to her during the California Democratic Party Convention in San Diego in February.

…

Fazli accused Cisneros of seeming intoxicated during a conversation in an elevator about donations to her campaign, then asking her, "Should we go back to your room?"

Fazli claims she spoke with Cisneros over the phone again regarding the donations. Cisneros allegedly asked her, "What are you going to do for me?" in a suggestive manner.
Fazil posted a two-page statement on Twitter, detailing her accusations:
Here's my press release of the inappropriate behavior by Candidate Gil Cisneros for Congressional District 39. pic.twitter.com/xdDaMfY3hP

— Melissa Fazli (@MelissaFazli) May 3, 2018
She concluded by declaring: "I know there will be skeptics and people who will publicly flog me for coming forward, but I thought it was necessary to let people know what kind of man is Gil Cisneros, an unethical creepy man who is using inappropriate and bullying tactics to intimate others in order win a seat in Congress."
Cisneros denied the allegations, but Fazli called for Cisneros to drop out of the race.
Others on the left, such as the activists of UltraViolet, which opposes sexual misconduct, have called on Democrats to withdraw their support for Cisneros — but Obama, apparently, has refused.
Obama greeted Cisneros as the candidate mounted the stage (photo via AP):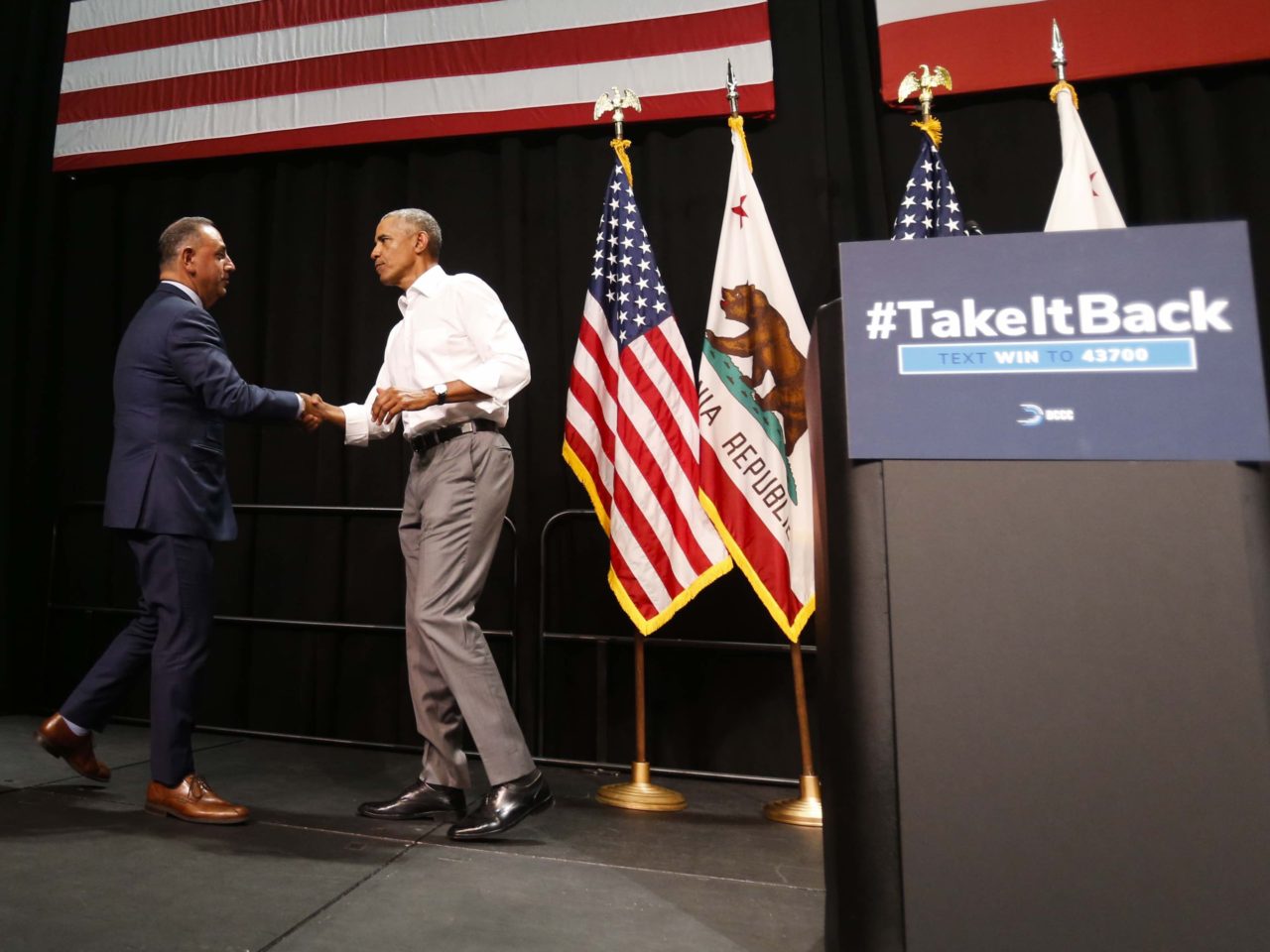 Later, Obama introduced Cisneros, praising his career in the Navy and his work with former first lady Michelle Obama on an education initiative.
Cisneros is running against a Republican woman, Young Kim, a former state legislator, in California's 39th congressional district, which takes in portions of Los Angeles, Orange, and San Bernardino countries. It is currently represented by retiring Rep. Ed Royce (R-CA).
Joel B. Pollak is Senior Editor-at-Large at Breitbart News. He is a winner of the 2018 Robert Novak Journalism Alumni Fellowship. He is also the co-author of How Trump Won: The Inside Story of a Revolution, which is available from Regnery. Follow him on Twitter at @joelpollak.