JERUSALEM – The Palestinian Fatah party this week continued its incitement to violence and terrorism with posts on the party's Facebook page commemorating a female suicide bomber who killed one Israeli and wounded more than 100 others in 2002.
Wafa Idris was memorialized as "a daughter of the Fatah Movement," highlighting the fact that her suicide attack was carried out "so that her pure body would explode into pieces in the Zionists' faces." See below: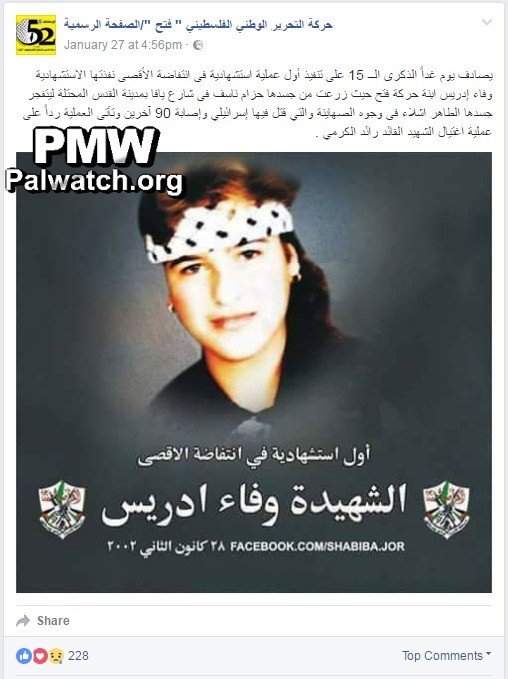 In a post translated by the NGO Palestinian Media Watch, Fatah's Facebook page operators wrote:
Today [Jan. 27, 2017] is the 15th anniversary of the first Martyrdom-seeking operation of the Al-Aqsa Intifada, which was carried out by Martyrdom-seeker Wafa Idris, a daughter of the Fatah Movement. She planted an explosive belt on her body on Jaffa Street in occupied Jerusalem, so that her pure body would explode into pieces in the Zionists' faces. One Israeli was killed in the operation and an additional 90 were wounded [over 100 according to PMW], and it came in response to the assassination operation against commander Raed Al-Karmi [a Palestinian terrorist who was responsible for killing nine Israelis].
According to PMW, Fatah has been consistent in memorializing Idris's actions over the years, posting commemorative posts on the anniversary of her attack.
Earlier this month, Fatah also commemorated Karmi, posting photos of him posing with automatic weapons and praising him as "the settler hunter," "the quick-responding heroic commander," and "the falcon of the Al-Aqsa Martyrs' Brigades," according to PMW.
In one post, it is noted how Karmi "loved" to play the game "Jews and Arabs," pretending to kill the "treacherous Jew." See below, right: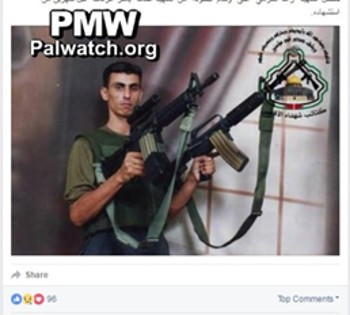 "He loved the game 'Jews and Arabs,' a game that children of the neighborhood would play. He always played the role of the Arab who, with his simple weapon, attacked the treacherous Jew who occupied his homeland and settled in it."
The Fatah Facebook post stressed that "fear began to permeate the ranks of the occupation army when Al-Karmi succeeded in killing approximately 12 Israeli soldiers and civilians."
Israel's assassination of Karmi led to several Palestinian counterattacks, among them Idris's suicide attack.
The Israeli government has continually accused President Mahmoud Abbas's Fatah government of inciting to terrorism and says incitement is one of the main causes bringing Palestinian teens – and minors – to attempt lone wolf attacks against Israeli military and civilian targets.
43 Israelis and foreign residents have been killed by Palestinian attackers during the "knifing intifada" of 2015-2016. Hundreds of others were wounded. On the Palestinian side, 269 were killed and hundreds wounded.