Writing in an encrypted chat room, Islamic State sympathizers and militants celebrated the deadly attacks on the parliament building in Iran and the tomb of the country's Shiite revolutionary founder.
Breitbart Jerusalem obtained access to correspondence posted in a closed chat group that utilizes the encrypted Telegram messaging service. The group serves as an internal Twitter of sorts for IS jihadists and sympathizers, and has been used in the past to issue IS communications.
IS claimed responsibility for the attacks on Iran, which took place during the Muslim holy month of Ramadan and appeared orchestrated in a manner to cause maximum civilian casualties.
Writing in the encrypted Telegram group, IS member Abou Obaida Alsameraii exclaimed, "We thank Allah, ask his forgiveness and thank him for facilitating our attack and our hits. We are counting on Allah as we strike Allah's enemies. This is a land of heresy, a capital of impurity, prostitution and profanity called Tehran. Today we attacked them in the depths of their land. We won't let them only attack us. We did this to defend our Sunni nation and we are punishing our enemies. Today we attacked their parliament, attacked their temple and their cemeteries and soon we'll attack the snake's head and destroy Iran with the help of Allah."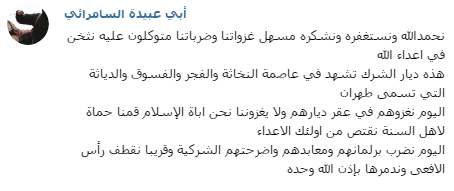 Another Telegram member who goes by the name "Prince of the Jihad and Death as a Martyr" wrote, "May your jihad be blessed and may your fight be blessed, you lions of the Islamic State, princes of jihad and those who die as martyrs. Today our brothers, with their bodies, struck and attacked the heretic capital of Tehran. With their blood, they've written a chapter in history, a new history. What was before today's attack will never be the same. This is a new era and a new stage in which we will witness more hits from our brothers against the countries of heresy."
Abi Abdullah Aljazrawi wrote, "Allah is great, Allah is great, Allah is great. Thanks to Allah. We worship Allah to thank him for causing the infidels and criminals to taste the attacks of our brothers. We swear to Allah that we will break them yet, that there will be more of these. We say to them, there will yet be soldiers who shake their lands. We swear to Allah that they will see the strength of our brothers, the mujahedeen. They will see what their mercenaries in Iraq and Syria have not yet seen. We will shake their lands."

Abi Dajana Alhomsi wrote, "Allah is great. We strike in Syria, Iraq and infidel countries in Europe and those who stand at the head of American terror and today we strike the heresy of Iran as we struck not so long ago in Saudi Arabia and against the supporters of the Gulf states of prostitution. We swear to Allah that the country of Caliphs will spread in spite of the opposition. This will be a Caliphate in the way of the prophet, a Caliphate that does not compromise with the enemy or give mercy to evil. We swear to Allah that we will show them the strength of our mujahedeen, they will see power that they have never realized."

Abi Rahman Aljazrawi wrote, "They accused our country and our Caliphate of being agents of Saudi Arabia, America and Iran. Everyday we prove to everyone that we are walking the path of the prophet. We are the agents of Islam and all these bastards have no value according to our religion as long as they do not return to the righteous path and as long as the Christians do not pay, with submission, the poll tax. We swear to Allah that we go with justice and Allah is the one supporting us and will bring us victory. You would love for us to be your agents and supporters. We are soldiers of Allah on Earth and we will tear up your roots and return to Islam."