TEL AVIV — Iran is building advanced weapons factories in Lebanon and Syria, Israel warned United Nations Secretary-General Antonio Guterres on Monday during his visit to Jerusalem.
"Iran is busy turning Syria into a base of military entrenchment," Prime Minister Benjamin Netanyahu said at a news conference with Guterres on Monday, "and it wants to use Syria and Lebanon as war fronts against its declared goal to eradicate Israel."
Netanyahu said that Iran "is building sites to produce precision-guided missiles toward that end in both Syria and in Lebanon."
He added: "This is something Israel cannot accept. This is something the UN should not accept."
Defense Minister Avigdor Lieberman also told Guterres about Iran's repeated efforts to smuggle arms into Lebanon. "We are determined to prevent any threat to the security of the citizens of Israel," Lieberman said, according to a transcript of his remarks issued by his office.
Earlier this month, Israeli media reported that Iran is constructing a weapons factory for long-range rockets in northwest Syria.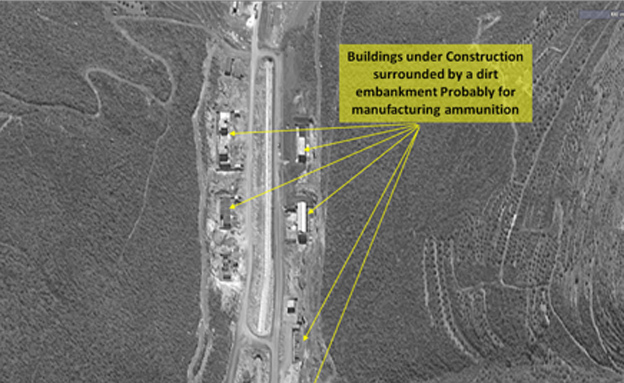 Satellite images of the alleged Iranian weapons factory in Syria (Channel 2)
The report came after warnings from Netanyahu that Tehran was bolstering its presence in Syria and Israel will respond strongly to any threat posed by the Iranian regime.
"Our policy is clear: We vehemently oppose the military buildup by Iran and its proxies, primarily Hezbollah, in Syria and we will do whatever it takes to protect Israel's security," he said.
The report showed images taken by an Israeli satellite of a facility said to be storing explosives near the Syrian coastal town of Baniyas.
Images of a rocket factory near Tehran were shown beside the Syrian images with the similarities evident.
Israeli leaders also urged Mr. Guterres to pressure UNIFIL, the United Nations peacekeeping force in Lebanon, to prevent Hezbollah's weapons buildup.
"I will do everything in my capacity to make sure that UNIFIL fully meets its mandate," said Mr. Guterres, adding that "the idea or the intention or the will to destroy the State of Israel is something totally unacceptable from my perspective."