BIRMINGHAM, Alabama — A woman who alleges that she engaged in a legal and consensual but inappropriate relationship with Republican senatorial candidate Roy Moore has deleted multiple political postings from her Facebook page.
Some of those postings by Deborah Wesson Gibson were critical of Moore while one was related to Moore's Democratic opponent, Doug Jones.
One posting shows a picture of Gibson with Vice President Joe Biden and says that she did work for him in 2012.  One older version of that image is still on her page while another more recent posting of that same image in response to a posting from Jones's official campaign Facebook page was removed, but was captured by Breitbart News.
Reached by Breitbart News, Gibson said that she has no comment on the removals of her Facebook posts.
Other posts still active on her page repeatedly urge the immediate removal of President Donald Trump from office and show that Gibson "likes" far-left activist groups.  She also pushed a petition drive to remove Steve Bannon from the National Security Council last February when Bannon was serving as the White House chief strategist.
Gibson was one of three women quoted in the Washington Post claiming that Moore pursued and or dated them when they were between the ages of 16 and 18 and he was in his early 30s.  The age of consent in Alabama is 16. The fourth woman claims that when she was 14, Moore engaged in sex acts with her.
Gibson said that in the spring of 1981, when she was 17, she openly dated Moore for two or three months with her mother's knowledge and approval.  She says that physical activity progressed to a kiss once in his bedroom and a second kiss at a local country club.
Gibson's active posts include a picture of her with Joe Biden when he was Vice President in 2012 that she posted on September 21:
In the posting about Biden, Gibson wrote that she was "honored to interpret for Vice President Biden in the Fall of 2012!" Gibson owns Signs of Excellence, LLC, a sign language interpretation company that advertises it is based in Florida and Alabama.
In one deleted posting saved by Breitbart News, she shared the image of her with Biden in response to a posting from the campaign page of Moore's Democratic opponent, Doug Jones: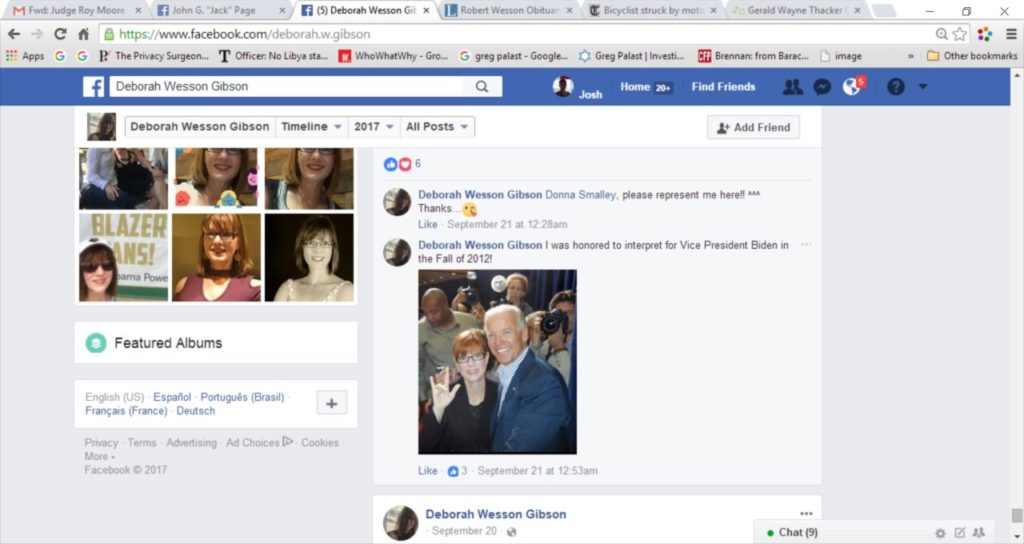 Gibson also removed posts associated with Moore.
In October 13, she shared a link to a New York Magazine article titled, "Democrats Have a Real Chance to Beat Roy Moore—They Should Take It."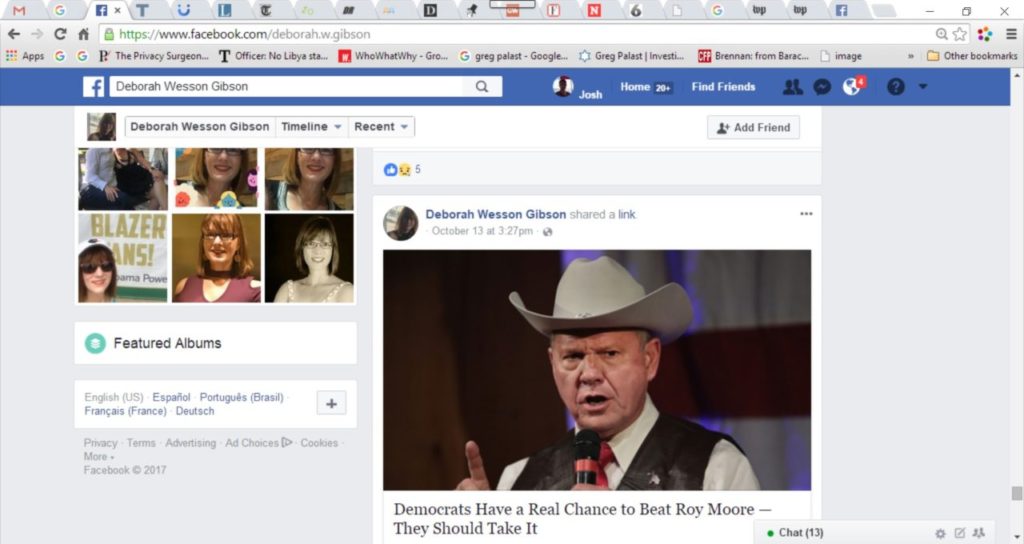 Another scrubbed anti-Moore post from that same day featured an article from the far-left Daily Kos website titled, "Alabama's U.S. Senate candidate said Sandy Hook massacre happened because 'we've forgotten God's law'":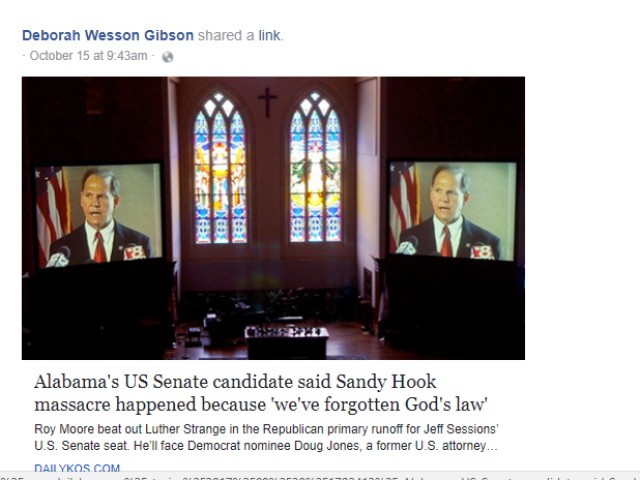 She currently has material from Moore's opponent, Jones, posted on her page, including a Jones video titled, "Why I am Running."

Gibson's other active postings evidence far-left leanings, sharing a video urging "resistance" against Trump and reposting material numerous times from former Clinton Labor Secretary Robert Reich, an activist leader with the George Soros-funded MoveOn.org.
In one posting that is still on her page, Gibson urged the removal of Trump from office, writing, "Get Trump OUT before we all get nuked!"
"How fast can we be rid of Trump?" she asks. "Seriously, time is of the essence. This is not a playground exchange…."
On February 2, she wrote, "Need to invoke 25th Amendment & impeach before there is war on American soil. Heartbroken to say that I truly believe this":
On February 4, she posted an image of Trump branded with "Not my president":
That same date she urged, "Please Congress, step up & do the right thing: IMPEACH NOW before it is too late!!":

On February 3, she spread a petition calling for citizens to phone the Senate Committee on Homeland Security to demand Bannon's removal from the National Security Council:
As of this writing, Gibson's "like" section is still active. It includes multiple radical groups, including the South Florida chapter of the Soros-linked "Indivisible" group seeking to disrupt Trump's agenda and presidency. Also "liked" is the Soros-financed ACLU and "Michigan for Revolution."
She further "likes" numerous anti-Trump Facebook communities, including "Donald Trump Is Not My President" and "Expose Trump."
At one point, in February, Gibson's cover image was a banner that read "Resist":
Aaron Klein is Breitbart's Jerusalem bureau chief and senior investigative reporter. He is a New York Times bestselling author and hosts the popular weekend talk radio program, Aaron Klein Investigative Radio. Follow him on Twitter @AaronKleinShow. Follow him on Facebook.
Written with research by Joshua Klein.