New York City rapper Azealia Banks had a few choice words for anti-Israel protesters who called on her to cancel her upcoming show in the Jewish State.
Taking to Instagram, the 26-year-old star challenged those who would rather she avoided visiting in May when she is scheduled to perform at the Barby Club in Tel Aviv. Banks said "my fans in Israel have been waiting for years for me to come," before warming to her theme: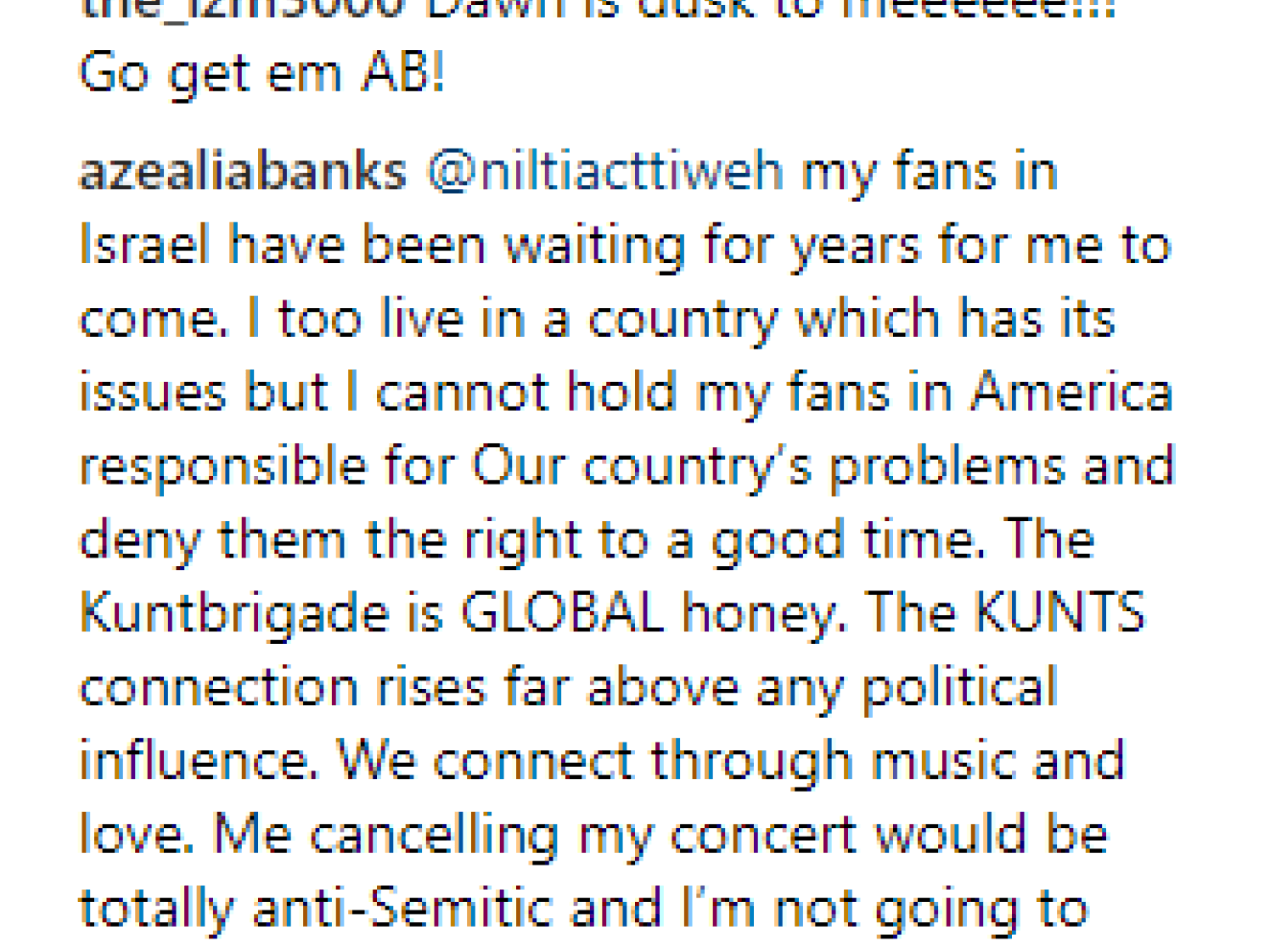 Banks decision to go ahead and ignore the hard-left Boycott, Divestment and Sanctions (BDS) movement that seeks to isolate Israel from the rest of the world stands in stark contrast to New Zealand singer Lorde.
The 21-year-old "Royals" singer was due to perform in Tel Aviv in June but reversed course and canceled the concert  after coming under pressure from noisy BDS activists.
"I've received an overwhelming number of messages and letters and have had a lot of discussions with people holding many views, and I think the right decision at this time is to cancel the show," Lorde said in statement announcing her decision.
The cancelation was met with a widespread backlash both on social media and in the larger entertainment industry, with actress Roseanne Barr for one reacting to the news by tweeting, "Boycott this bigot."
Other performers who feel less threatened by BDS activists include Sir Paul McCartney. As Breitbart Jerusalem reported, he has won Israel's prestigious 2018 Wolf Prize and the former Beatle is expected to travel to the Jewish State and receive his award at the end of May.
McCartney's visit to accept his prize will mirror that of fellow Beatle Ringo Starr who will perform two shows of his own in Israel later this year.
Ringo has chosen a band that includes fellow rock legends Steve Lukather of Toto, Greg Rollie of Journey and Graham Gouldman of 10cc as the All-Starrs. The two shows are booked for Tel Aviv's Menorah Mivtahim Arena on June 23 and 24.
Follow Simon Kent on Twitter:

Follow @SunSimonKent

or e-mail to: skent@breitbart.com