UK Labour leader Jeremy Corbyn has been challenged to a debate on anti-Semitism in parliament to "explain why you defend the world's oldest hatred."
The call has been made by Sajid Javid, Secretary of State for Communities and Local Government, who took to social media to say "enough is enough Jeremy Corbyn", as pressure mounts for the opposition leader to explain why he questioned the removal of an anti-Semitic mural depicting a group of men huddled around a Monopoly-style board.
Enough is enough @jeremycorbyn. I'm going to ask for a debate in Parliament on anti-semitism in coming weeks. I challenge you to turn up and personally speak for the Opposition. Your opportunity to explain why you defend the world's oldest hatred https://t.co/3heIruVBo6

— Sajid Javid (@sajidjavid) March 23, 2018
Mr. Corbyn has also faced challenges by some of his own MPs over his response to a Facebook post by the street artist Mear One about the plan to obliterate the work. In it, he suggested the artist was "in good company" because the Rockefeller family had covered over a mural featuring Lenin in their New York development.
Mr. Corbyn said: "Why? You are in good company. Rockerfeller (sic) destroyed Diego Viera's mural because it includes a picture of Lenin."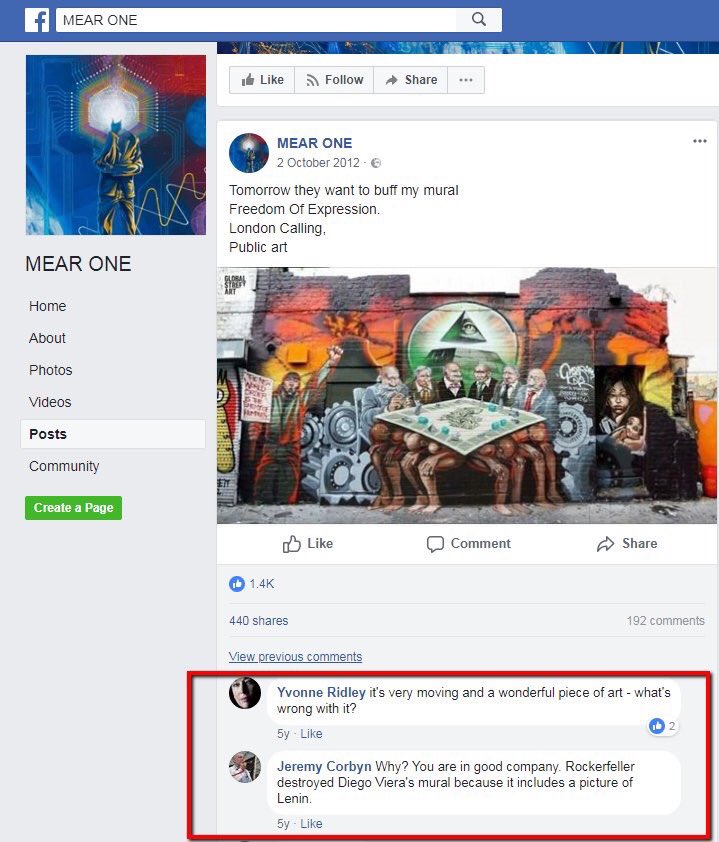 Mr. Corbyn simply acknowledged he should have looked more closely at the image before posting on Facebook but did not offer a direct apology.
A spokesman said: "In 2012, Jeremy was responding to concerns about the removal of public art on grounds of freedom of speech."
"However, the mural was offensive, used anti-Semitic imagery, which has no place in our society, and it is right that it was removed."
Those calling for Mr. Corbyn to explain himself have been joined by members of his own party.
Labour MP Luciana Berger – who highlighted the post by Mr. Corbyn – hit out at the "wholly inadequate" response. She said: "It fails to understand on any level the hurt and anguish felt about anti-Semitism. I will be raising this further."
I asked the Leader's Office for an explanation about this Facebook post first thing this morning. I'm still waiting for a response. pic.twitter.com/DL8ynBtES4

— Luciana Berger (@lucianaberger) March 23, 2018
Labour MP Chuka Umunna, whose father was Nigerian, suggested Labour would be stricter dealing with discrimination "with regard to black people" in his challenge to Mr.Cornyn's response.
Mr. Umunna contrasted Labour's "shameful" response to issues of anti-Semitism over the last two years with how he expected the party to crack down on racism against black people.  The Streatham MP said:
If we were dealing with… hatred and discrimination emanating in and around the Labour Party with regard to black people, I would not stand for that kind of thing. And I'd be very surprised actually if the Labour Party dealt with that kind of incidence of racism in that way.
Insisting he was not using the issue to undermine party leadership, Mr. Umunna said Labour had a "real problem" with anti-Semitism that was not in keeping with the party's values.
His claim is supported by polling which shows that British Jews have been abandoning the Labour Party since the election of Mr. Corbyn, and a recent survey revealed that four in five believe that Labour harbours anti-Semites in its ranks.
Follow Simon Kent on Twitter:

Follow @SunSimonKent

or e-mail to: skent@breitbart.com