A new poll has found that more than half of voters think Labour has an anti-Semitism problem and over a third think Jeremy Corbyn is himself anti-Semitic.
Almost 51% also think Labour has at least pockets of anti-Semitism, and 34% think those pockets include the leader.
The findings, from a debut poll by the Deltapoll company, confirm the Labour leadership's inability to control the anti-Jewish forces running rampant inside the left wing party.
Labour has previously tried to draw a line under the issue by vowing to implement all the recommendations in Shami Chakrabarti's 2016 report into anti-Semitism in the party.
As Breitbart Jerusalem reported, Chakrabarti was rewarded with a peerage just weeks after she published that report finding no indication of institutional anti-Semitism within Labour. It was variously called a "fraud" and a "whitewash" by UK Jewish community leaders.
A press conference called to proudly announce that the Labour Party was "not overrun" by anti-Semitism dissolved into chaos when fresh allegations surfaced, Mr. Corbyn compared the Israeli government to Islamic State, and a Jewish MP fled the room in tears after being accused of conspiring with the right wing press.
A summary of the latest poll appears below: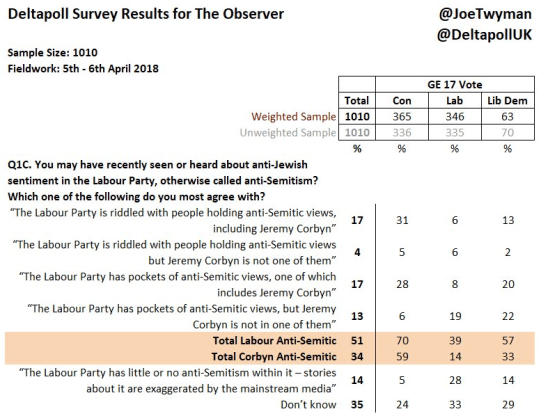 Deltapoll also looked at the popularity of leading politicians. Mr. Corbyn scored a net approval rating of -27, with the prime minister, Theresa May, on -6. She had better ratings than her cabinet team, with the chancellor Philip Hammond on -10, Brexit secretary David Davis on -22, and foreign secretary Boris Johnson on -26.
At the bottom of the table came Vince Cable. With the Lib Dems still struggling to make an impact, its leader has a net approval rating of -29.
Deltapoll interviewed 1,010 people online on 5-6 April. The results were weighted to reflect the profile of all UK adults.
Follow Simon Kent on Twitter:

Follow @SunSimonKent

or e-mail to: skent@breitbart.com