Americans are fleeing Sen. Dick Durbin's home state of Illinois at record rates while he spends his "full time" to win amnesty for another wave of wage-cutting illegal immigrants.
The emigration data comes from rental companies who track the movement of people from state to state. NorthAmerican Moving Services reported January 23 that "Illinois topped the outbound moves list for the 3rd time since 2011."
In 2017, 68 percent of rentals which cross the Illinois border were to people leaving the state, and only 32 percent went to arrivals, said NorthAmerican. The 2:1 ratio was similar in 2017, 2016 and 2016, and worse than the 2012 score of 61 percent outbound, 39 percent inbound.
U-Haul reported January 8 that Illinois is second-last on its annual list of popular destination states, along with California, which has the highest ratio of departures to arrivals.
The exit from Durbin's state is powered by the state's lousy economic performance and high crime. For example, governing.com reported that the state's median wages grew only 0.5 percent from 2005 to 2016, putting it as the twelfth-worst state in the nation. During the same period, California's median wage grew by only 0.5 percent, despite the rise of high-tech companies in the state.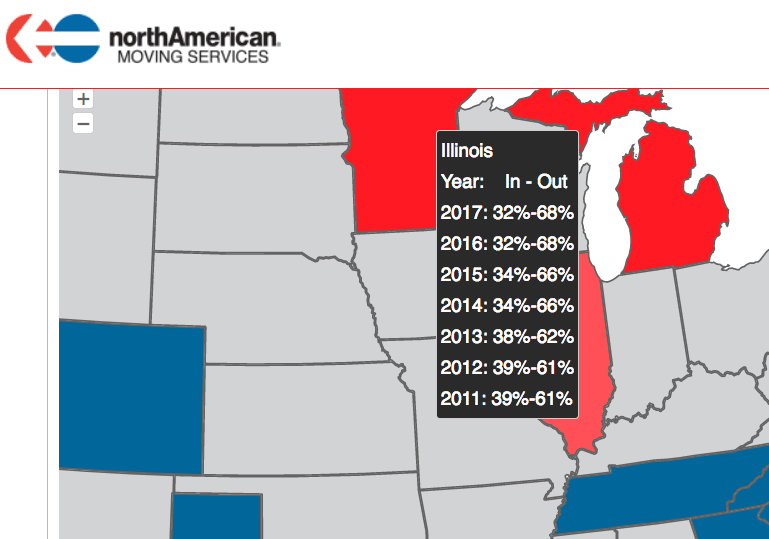 Both states have a huge influx of low-wage immigrants, forcing down wages for Americans but allowing companies to grow their payrolls and profits.
On January 9, the Chicago Tribune's editors noted:
In Chicago, the job situation in hollowed-out West and South side neighborhoods is dire. Manufacturers left long ago. There are few retail and restaurant jobs. All the economic activity is located miles away in the Loop and elsewhere in metropolitan Chicago. Too many young people have inadequate job training and … nothing to do. According to the Great Cities Institute at the University of Illinois at Chicago, more than 40 percent of 20-to-24-year-old black males in Chicago are out of work and out of school.
Polls show that a growing number of blacks and Hispanics support Donald Trump's "Buy American, Hire American" immigration policy.
But Durbin continues to promote cheap-labor immigration amid the resulting poverty. "I'm focused on one thing …  making sure that those who are being protected by DACA and eligible for the DREAM Act have a future in America," he told reporters January 16. "I am focused on that full time."
Sen. Durbin responds to @SenTomCotton who says he "misrepresented" what @realDonaldTrump said during Oval Office meeting when @SenatorDurbin says referred "shi-hole" countries. @cbschicago pic.twitter.com/NflI5XzlhC

— Mike Puccinelli (@MPuccinelliCBS2) January 15, 2018
On January 18, Durbin reveled in praise from a group of illegal migrants, who sang and danced around him in the Capitol building as he outlined plans to win them an amnesty.
.@SenatorDurbin holds impromptu meeting with Dreamers, explaining to them details of plan. He's met with song pic.twitter.com/qaz8xfTcxv

— Seung Min Kim (@seungminkim) January 19, 2018
Durbin's main ally in their "Gang of Six" amnesty group is GOP Sen. Lindsey Graham. He said January 21 that they are trying to bring in more people for low-wage jobs:
We need more legal immigration … I don't want green cards just for computer engineers. If you are out there working in the fields, if you are a construction worker, I want some of those people to have a way to stay here, because if you are running a business and you have a guest worker who is really good, and would add value to our country, I want them to have a chance to get a green card. I just don't want to be a country in the future of just computer engineers or high-tech people.
NorthAmerican reported that the states with the greatest share of arrivals included Arizona, Idaho, North Carolina, South Carolina and Tennessee. U-Haul's best performing states in 2017 were Texas, Florida, Arkansas, South Carolina and Tennessee.