Exactly one year and one day after Barack Obama issued a warning to Syria's President Bashar al-Assad that using chemical weapons would cross a "red line," opposition forces in Syria have claimed that Assad's forces launched a nerve gas attack that killed at least 213 people.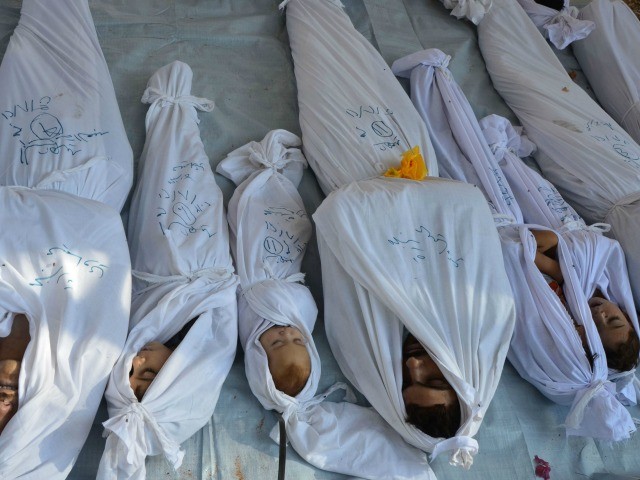 Syrian state television denied the opposition claims, saying that the opposition was making the accusations in order to distract a UN team that arrived in Syria three days ago to investigate both sides for alleged use of chemical weapons.
Opposition forces claim that rockets with chemical gases struck the Damascus suburbs of Ain Tarma, Zamalka and Jobar in the early hours of Wednesday morning.
Bayan Baker, a nurse at Douma Emergency Collection facility, said the death toll had risen to 213 in the medical centers in the area. She stated, "Many of the casualties are women and children. They arrived with their pupil dilated, cold limbs and foam in their mouths. The doctors say these are typical symptoms of nerve gas victims."
There is much visual evidence of the carnage; one video showed a room allegedly in Kafr Batna with 90 bodies, including many women, children, and elderly people. Another video depicted a dozen dead people on the floor of a clinic. In both videos there were no apparent injuries to the bodies. A photograph taken in Douma showed at least 16 children and three adults on the floor of a medical facility.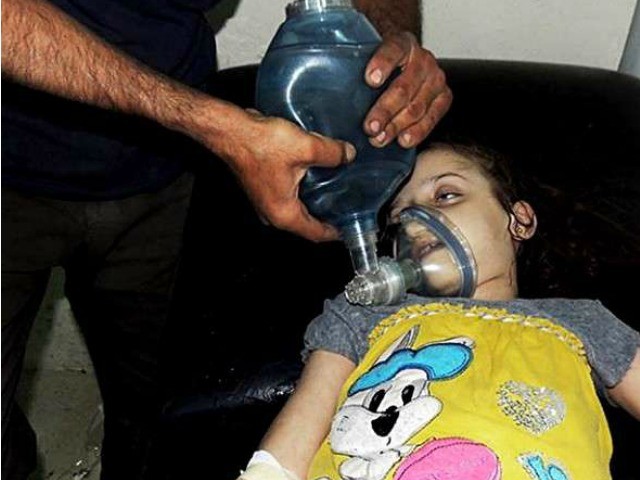 Syria is not signed to the international treaty that bans chemical weapons, and is believed to possess mustard gas, sarin and VX nerve agents.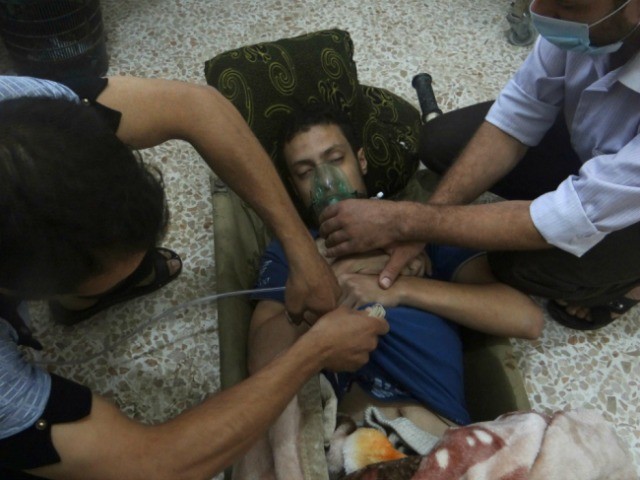 Khaled Omar, an opposition leader in Ain Tarma, claimed there were at least 80 bodies at the Hajjah Hospital in Ain Tarma and in Tatbiqiya School at a clinic. He added, "The attack took place at around 3:00 a.m. Most of those killed were in their homes."
Charles Lister, analyst at IHS Jane's Terrorism and Insurgency Center said although using the chemical weapons at the time of the U.N. inspection would not make sense politically, there was no doubt something that many people had been slaughtered.
He said:
Logically, it would make little sense for the Syrian government to employ chemical agents at such a time, particularly given the relatively close proximity of the targeted towns (to the U.N. team.) Nonetheless, the Ghouta region (where the attacks were reported) is well known for its opposition leanings. Jabhat al-Nusra has had a long-time presence there and the region has borne the brunt of sustained military pressure for months now. While it is clearly impossible to confirm the chemical weapons claim, it is clear from videos uploaded by reliable accounts that a large number of people have died.
What will the Administration's response be? Barack Obama said on August 20, 2012: "We have been very clear to the Assad regime but also to other players on the ground, that a red line for us is; we start seeing a whole bunch of chemical weapons moving around or being utilized. That would change my calculus; that would change my equation."