In a sign that the terrorist organization Hamas believes its own propaganda about a recent "victory" in Gaza, its Bethlehem wing has announced that it will be holding a car rally after Friday evening prayers on August 29 proceeding through the Palestinian Authority-controlled city of Bethlehem.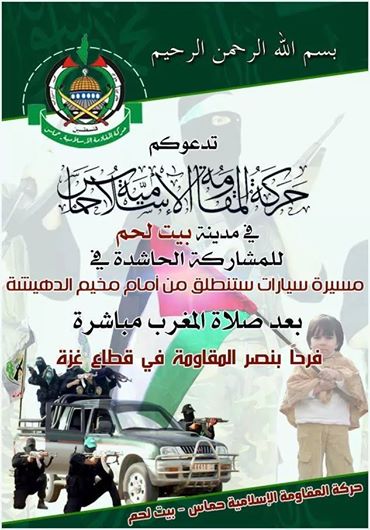 "The Islamic Resistance Movement Hamas invites you in the city of Bethlehem to participate in a rally directly after the evening prayer. A procession of cars will start in front of the Dheisheh Camp. To celebrate the victory of the resistance in the Gaza Strip. The Islamic Resistance Movement Hamas in Bethlehem."
The Hamas motorcade will likely take a similar route to that of Pope Francis' May 25th visit and will pass through places such as the Deheishe and Aida neighborhoods.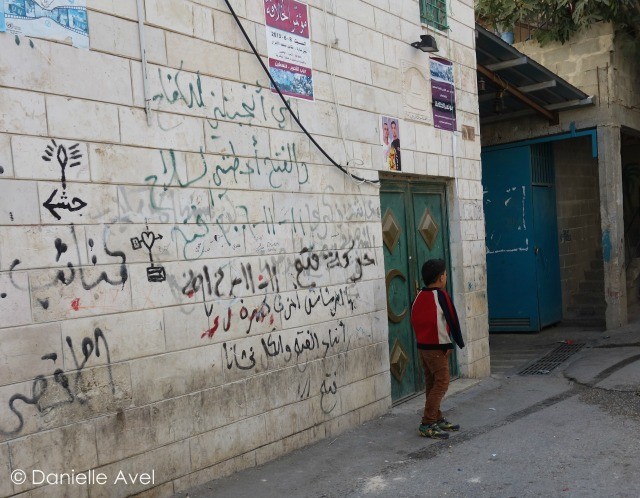 A child walks by the side entrance of this mosque in Fatah-dominated Aida. The words "Fatah" appear in graffiti frequently alongside the terms "struggle" and "Phalanxes of Martyrdom" which are calls to war. In addition is a poster celebrating 2 terrorists along with advertisements for a caliphate conference. Photo credit: Danielle Avel
This "victory" rally in which Hamas shows a display of force in the Fatah stronghold of Bethlehem in the West Bank directly challenges Mahmoud Abbas and the Palestinian Authority. This raises the question: Does the Hamas leadership have the strength for such a display or has it been caught up in the enthusiasm of its supposed victory over Israel? The events on Friday could answer this question. 
Danielle Avel is a photojournalist and investigative researcher. She can be reached through her website, on Twitter and on Facebook.
© Danielle Avel. All rights reserved.