With a whopper of a crowd waiting out in the Christ the Redeemer Square in Santa Cruz, Bolivia, Pope Francis slipped into a nearby Burger King restaurant Thursday to change into his liturgical vestments for Mass.
The fast food restaurant became a makeshift sacristy for a day, serving the Pope and the 60 bishops who concelebrated Mass with him, allowing them to prepare for the liturgical ceremony.
According to the manager of the Burger King, Alfredo Troche, the organizers of the papal visit had approached the restaurant and "asked for help because it was the most suitable place and we were closed to customers."
"We were proud to lend him our facilities," he added.
A group of workers was already in full swing early Thursday morning, hanging white drapes to cover menu offerings and price lists, in an attempt to give the space a more sober and liturgical tone.
Workers also had to remove a billboard outside the building that would have been very close to the altar.
We prepared everything as best we could "to give the ceremony the respect it deserves," said Troche.
Even the parking lot of Burger King was used, with a platform erected for some of the prelates who would concelebrate with the Pope.
"In the coming weeks we will place a memorial plaque on the premises. This is a historic event," the manager explained.
Vatican spokesman Father Federico Lombardi told reporters he knew nothing about the makeshift sacristy.
While Mass was still going on, Burger King began sending messages via social media, capitalizing on the Pope's choice to use its premises.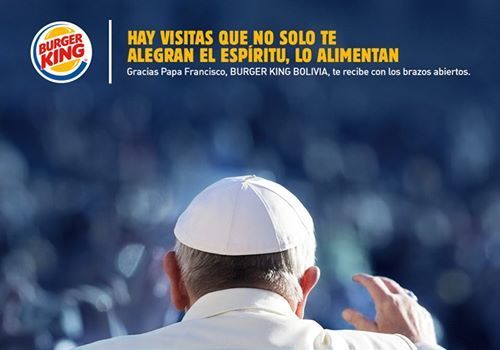 "There are visits that will not only gladden the spirit, they feed it," read one promotional message with an image of the Pope's back.
Paradoxically, during his homily at Mass, Francis criticized a consumeristic way of thinking, "in which everything has a price, everything can be bought, everything is negotiable."
Follow Thomas D. Williams on Twitter @tdwilliamsrome.