A U.S.-listed terrorist, Iranian Revolutionary Guards Corps-Quds Force Commander Qasem Soleimani has had personal sanctions against him dropped as part of Tuesday's nuclear agreement between the P5+1 world powers and Iran, according to what appears to be the final text of the Joint Comprehensive Plan of Action between the negotiating parties.
Soleimani, who has already purportedly violated personal sanctions against him after leading forces in support of the Shiite militias in Iraq and Syrian genocidal dictator Bashar Assad, will now be free from a UN travel ban, it appears.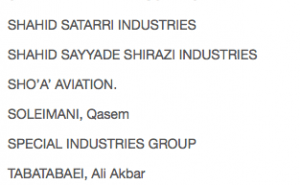 The U.S. Treasury Department twice sanctioned the IRGC commander in 2011 due to his relationship with the militant arm of the Iranian regime, which has been tasked primarily with exporting Iran's revolutionary ideals through force. The Treasury Department described the Soleimani-led IRGC as the "primary conduit for Iran's support" of Syria's human rights abuses under Assad.
The Soleimani-led IRGC is also responsible for financing and arming regional terrorist groups such as Palestinian terror organization Hamas and Iran-proxy Hezbollah, reports have stated.
The Iranian commander has been described by the Washington Post as the man who "funded and armed the militias who blew up U.S. troops and shelled the U.S. Embassy" in Iraq.
In one such incident, a 2007 operation carried out by Soleimani's Quds Force and Iranian proxy Hezbollah, militants "captured and executed" four American soldiers serving in Iraq, the Wall Street Journal reported.
Soleimani's Iranian Revolutionary Guard Corps-Quds Force, along with the IRGC as a whole, the IRGC Air Force and its Al-Ghadir Missile Command, have all been delisted from applied sanctions. The IRGC has been described as an organization that is "drenched in American blood" and "infused with an anti-American philosophy."
In addition to the militant chief, at least six other IRGC Brigadier Generals have had personal sanctions removed as part of the final agreement, according to the text of the agreement.