Turkish President Recep Tayyip Erdoğan now claims he possesses evidence that Russia purchased oil from the Islamic State (ISIS/ISIL). His accusations come a day after the Russian government said it had proof Erdoğan's family benefits from ISIS oil.
"We have the proof in our hands. We will reveal it to the world," he declared on television.
Erdoğan pointed the finger at Syrian businessman George Haswani and "a famous Russian chess player" without revealing the name.
"Who buys oil from Daesh? Let me say it. George Haswani, holder of a Russian passport and a Syrian national, is one of the biggest merchants in this business," Erdoğan said.
In November, the U.S. imposed sanctions on Haswani and his company, Hesco Engineering and Construction, after the government accused him of buying oil from ISIS. The Department of Treasury stated that he "serves as a middleman for oil purchases by the Syrian regime from Isis." The EU placed him on their sanctions list earlier in 2015.
On November 30, Russian President Vladimir Putin first claimed his government held proof of Turkey's involvement in the ISIS oil trade.
"At the moment we have received additional information confirming that that oil from the deposits controlled by Islamic State militants enters Turkish territory on industrial scale," stated Putin. "We have every reason to believe that the decision to down our plane was guided by a desire to ensure security of this oil's delivery routes to ports where they are shipped in tankers."
Erdoğan denied the accusations, even offering to resign if Putin provided proof.
"As soon as such a claim is proved, the nobility of our nation requires [me] to do this," he said the world at the Paris climate change summit. "I will not remain in this post. But I am asking Mr. Putin, would you remain?"
The Russian Defense Ministry published alleged proof that ties Turkey to ISIS oil. Officials claimed the satellite image set "shows columns of tanker trucks loading with oil at an installation controlled by Isis in Syria, before crossing the border into Turkey."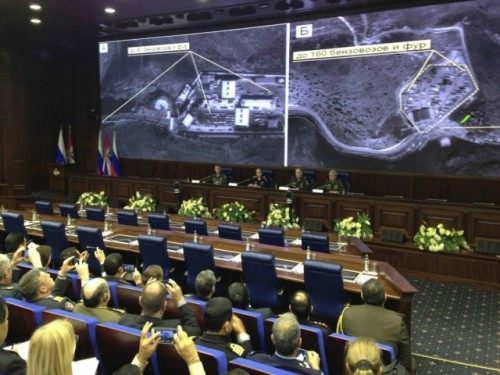 But Iraq's Kurdistan Regional Government (KRG) said the pictures actually show their tankers of oil.
"Our Natural Resources Ministry has earlier announced that hundreds of tankers are carrying oil from KRG to Turkey. Oil is being shipped to Turkey with tankers and it is not a secret," explained Sherko Jawdat, the chairman of the KRG Parliament's Energy Committee.
Kremlin propaganda outlet Russia Today subsequently published a video that supposedly shows trucks filled with oil crossing into Turkey without any inspections at the Reyhanli checkpoint.
However, the defense ministry did not provide any direct evidence to the Erdoğan family. Even German Foreign Ministry spokeswoman Sawsan Chebli admitted the evidence is not conclusive.
"But what we know, for example, is that the Assad regime has received large amounts of oil from ISIL," she said. "We have evidence. We have indications showing that this is the case."
Last week, Sputnik News, another Kremlin propaganda outlet, reported that Erdoğan shot down a Russian warplane to protect his son's interest in ISIS oil. The outlet quoted the claims from Syrian Information Minister Omran al-Zoubi:
"All of the oil was delivered to a company that belongs to the son of Recep [Tayyip] Erdogan. This is why Turkey became anxious when Russia began delivering airstrikes against the IS infrastructure and destroyed more than 500 trucks with oil already. This really got on Erdogan and his company's nerves. They're importing not only oil, but wheat and historic artefacts as well," al-Zoubi told RIA Novosti in an interview.

"The fact of the attack on the [Russian] plane in Syrian airspace without any warning, as the surviving Russian [co-]pilot reported, confirms once again that Turkey is lying," the information minister said.
The war of words between Russia and Turkey began on Nov. 24 when the Turkish military shot down a Russian warplane in Syria, killing one pilot. The forces claim they sent the jet numerous warnings, but Russian officials said none were received. The Turkish military released audio of the warnings sent to the Russian plane the following day, but Russia said the recordings are fake.
Putin also passed numerous economic sanctions against Turkey. After the plane crashed, Russian Prime Minister Dmitry Medvedev warned that the many joint projects between the two countries could be in danger. The Turkish government "commissioned Russia's state-owned Rosatom in 2013 to build four 1,200-megawatt reactors in a project worth $20 billion." The TurkStream pipeline project could be affected as well, a project intended as a way to transport natural gas to Europe without going through Ukraine.