Ukraine is ready to move into the Turkish economic markets after Russia passed numerous sanctions against Turkey for downing one of its warplanes over Syria.
Ukrainian Minister of Agrarian Policy and Food Oleksiy Pavlenko wrote on his Facebook page that the country is more than willing to step in to help Turkey.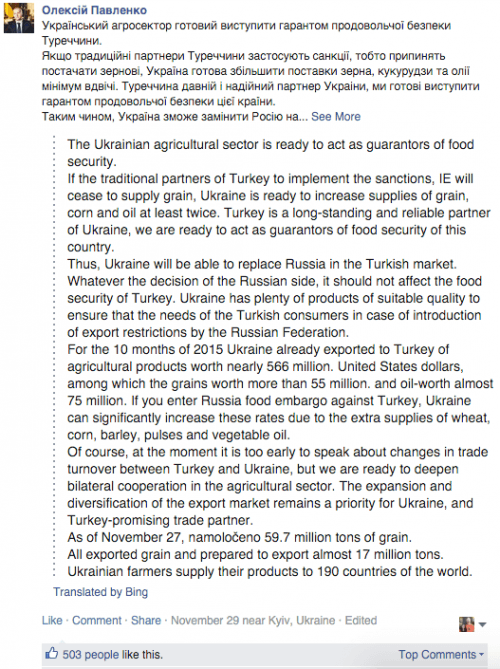 Market analyst group UkrAgroConsult determined that "Ukrainian wheat in the Turkish market has declined by 50 percent over the last five years to only 2.7 percent in the 2014/15 season." The report also stated that Turkey cut the Ukraine corn market by 75 percent since 2010. This could now all change, however, as Turkey seeks new business partners to offset the losses from Russian sanctions.
Russian President Vladimir Putin issued the sanctions last week due to "national security" concerns and to protect "the national interests of the Russian Federation." Ukraine Today reported that "[H]undreds of trucks carrying Turkish exports have been blocked from entering Russia and are stranded at the Ukrainian border."
"At present, at Bachivsk border crossing there are some 100 trucks, more than half of them carrying Turkish goods. Over the past three days twelve trucks with Turkish goods have been turned back," explained Roman Tkach, spokesman for the Bachivsk border crossing.
Turkish officials said containers are "also waiting for clearance in the Turkish Black Sea port of Samsun and at the Russian port of Novorossiysk."
The Kremlin did not include Turkey in its Western food ban in 2014 in retaliation for the West's sanctions on Russia following its aggression towards Ukraine.
Russian Prime Minister Dmitry Medvedev warned that the many joint projects between the two countries could be in danger only two days after the Turkish military shot down the Russian plane. The Turkish government "commissioned Russia's state-owned Rosatom in 2013 to build four 1,200-megawatt reactors in a project worth $20 billion." The TurkStream pipeline project could be affected, as well, a project intended as a way to transport natural gas to Europe without going through Ukraine.
"There are a lot of Turkish companies operating in the construction business in the Russian market; there is cooperation in the tourism sector," stated Dmitry Abzalov, the vice president of the Center for Strategic Communications. "The termination of relations with Moscow on these issues will be negative for the Turkish economy, and it will hit the national currency, the lira."
The Russian Ministry of Agriculture also declared their sector "would strengthen control over food supplies" and "perform additional border and production checks."
"About 15 percent of Turkish agricultural products on average do not meet Russian standards," said Minister of Agriculture Alexander Tkachev.
In 2014, "4 percent of Turkey's exports, mainly textiles and food, worth $6 billion went to Russia." Turkey is also the "second-largest buyer of Russian natural gas after Germany." The government purchases the most Russian wheat and steel semi-finished products in the world. Kremlin propaganda outlet Russia Today reported that on November 25, Rosselkhoznadzor, Russia's food safety regulator, "stopped a 162 ton shipment of chicken from Turkey for not having proper food safety certificates."