On Wednesday Pope Francis greeted lead actor Joseph Fiennes and other members of the cast and production staff of Risen, a new film depicting the story of Jesus after the resurrection, seen through the eyes of a Roman tribune who participated in his execution.
The Pope greeted the 44-year-old British actor known for his starring role in Shakespeare in Love, who came to the audience with his wife and two daughters, accompanied by Argentinian actress Maria Botto, who plays the role of Mary Magdalene in the film, along with producers Mickey Liddell and Pete Shilaimon.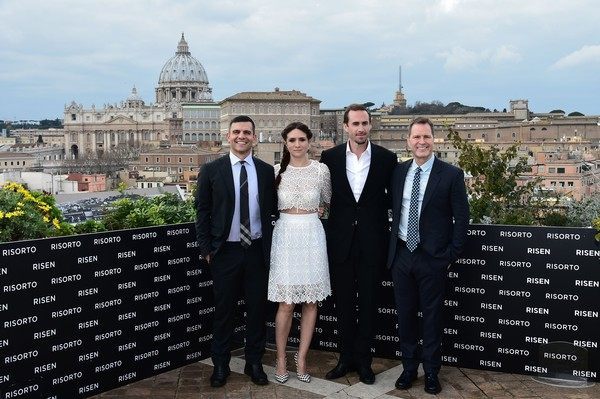 In the film, Fiennes portrays Clavius, a Roman tribune who oversees the execution of Jesus, and is later assigned by Pontius Pilate to investigate the apparent theft of Jesus' body, which is discovered missing from the tomb. Unable to find the remains of Jesus, the unbelieving Roman is drawn into the story of Jesus and eventually encounters the risen Christ.
The biblical film was produced by Columbia Pictures and AFFIRM Films (Heaven Is for Real, War Room, Soul Surfer), along the line of the classic stories that used to be standard fare for Hollywood in the 1950s, such as The Robe, the Ten Commandments, Ben Hur and Spartacus.
Breitbart News was invited to a private viewing of the film on Wednesday, which took place at a screening house in the Villa Borghese gardens.
Fiennes told Breitbart News that he hopes the film will make viewers "uncomfortable" and challenge them to ask themselves the big questions of life. He also highlighted the importance of presenting the story through the eyes of a skeptic, in a world that has more and more trouble believing.
"It is meant to address believers and non-believers alike," he said, "and hopefully bring them together in a fruitful dialogue."
The film is scheduled to be released on 19 February, and the trailer can be seen here.
Follow Thomas D. Williams on Twitter @tdwilliamsrome