Thousands of Brazilians returned to the streets Wednesday night after an intense weekend of protests to call for President Dilma Rousseff's impeachment, following the appointment of former President Luiz Inacio Lula da Silva as her Chief of Staff. The appointment partially shields da Silva from prosecution for corruption allegations related to the billion-dollar Petrobras kickback scheme.
Thousands in Sao Paulo – where 1.4 million people congregated to call for the ouster of Rousseff's leftist Workers' Party from power Sunday – took to the streets at night, returning carrying Brazilian flags, blow-up figurines of the president and her predecessor, and protest signs featuring Rousseff as an aedes aegypti mosquito, the carrier of the Zika virus.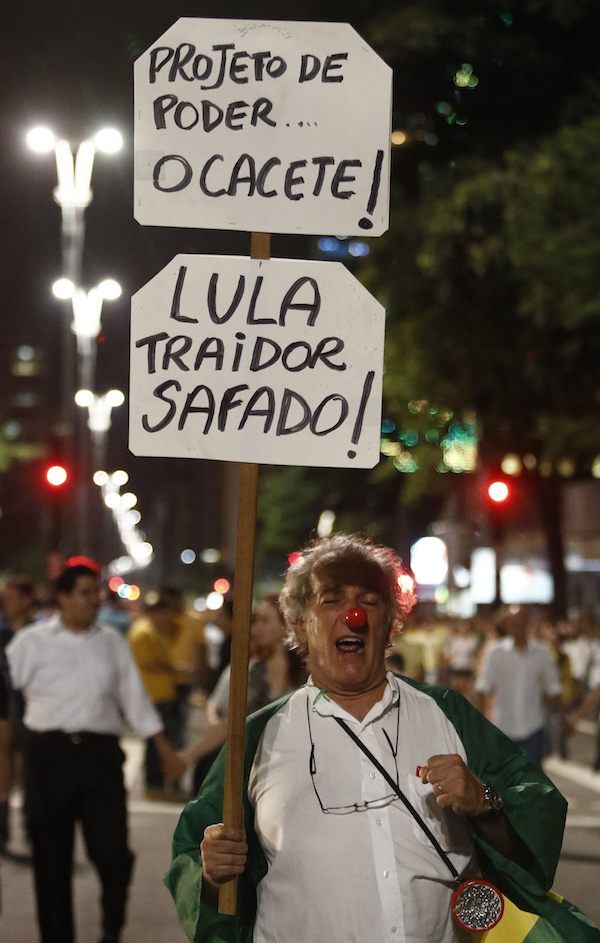 Posters read: "Power project… the stick! Lula traitor bastard!"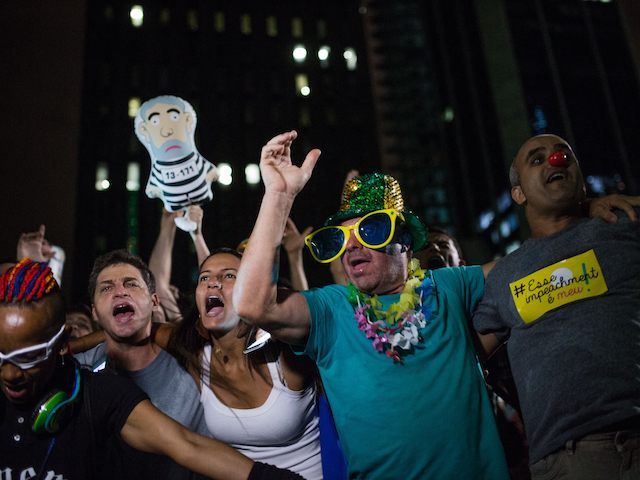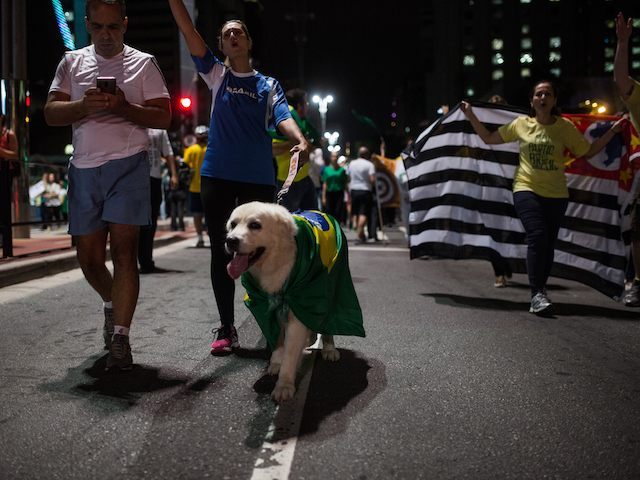 #OcupaSãoPaulo #ForaPT RT @monikalive: #AvPaulista #VemPraRuaBrasil @AmexGamboa pic.twitter.com/rim2kuR6oV

— Claudia Bistão (@claudiabistao) March 17, 2016
#OcupaSãoPaulo #ForaPT RT @monikalive: #AvPaulista #VemPraRuaBrasil @AmexGamboa pic.twitter.com/rim2kuR6oV

— Claudia Bistão (@claudiabistao) March 17, 2016
#avpaulista pic.twitter.com/AVUEO6MI3u

— Milita (@MiliJune) March 17, 2016
While there are no concrete estimates of the number of protesters in Sao Paulo, Spanish newspaper ABC reports that 4,000 people congregated last night in Brasilia, the nation's capital, chanting "Lula to Jail" and waving flags. Unlike other protests, the assembly in Brasilia turned violent last night, with police using water cannons and pepper spray to subdue protesters. Protesters, upon being attacked, began chanting "police for bandits" and attacking law enforcement authorities with firecrackers.
ABC notes that nearly 30 members of Brazil's Congress were among those protesting, holding up a sign with one of Lula da Silva's most famous quotes: "When a poor person steals, they go to jail; when a rich person steals, they become a minister." O Globo quotes some of them as infuriated with their government's leadership. "It is a mockery, the cherry on top," legislator Pauderney Avelino told O Globo. Another legislator, Carlos Marun, expressed his disappointment with leadership but had to leave the protests after being attacked by protesters for being a government official. "Even in an uprising there are stupid, brute people," he lamented.
View from #Brazil National Congress in #Brasilia now

10:15pm local time#ocupabrasilia #brazil pic.twitter.com/eMPw6R3Wba

— Rey Damy-Castro (@Rey_Brazil) March 17, 2016
Da Silva assumed the role of Head Minister, or Chief of Staff, for Rousseff's cabinet today.
Following the announcement confirming da Silva would assume a ministerial position – after days in which he insisted to the press that he was an "old man trying to rest" that had been dragged into a "media show" – the judge presiding over the corruption case at the nation's state-run oil corporation, Petrobras, released audio implicating Dilma Rousseff in the cover-up. Prosecutors argue that, over the past decade, deep into the da Silva presidency, government officials had implemented a kickback scheme in which the government overcharged for Petrobras projects and kept the money. They estimate Workers' Party officials have stolen $3 billion from government coffers, some allegedly used to fund da Silva's campaign.
The recordings released by Judge Sergio Moro indicate that Rousseff had been personally involved in trying to protect Workers' Party politicians that had been involved in the scheme. The particular call released is a conversation between Rousseff and da Silva, in which Rousseff tells da Silva paperwork has been filed to make him a minister immediately, "in case of emergency."
Rousseff's office has called the release of the tape an "affront to the rights and guarantees of the presidency."
The conversation fits with the testimony of former senator Delcidio Amaral, who was arrested in connection with Petrobras and has become the only witness to testify against the heads of state. Amaral told authorities that, upon being arrested, he received a message through one of Rousseff's closest confidantes implying that she would use Workers' Party funds to pay for his legal fees if he did not testify against her. He also accused da Silva of using Petrobras money to fund his campaigns.
The head of the opposition in Congress, Eduardo Cunha, announced that the process for impeaching Rousseff will begin today, with the lower chamber of Congress to vote on impeachment within 30 days.