A small collection of leftists organized a grand display in protest of President Obama's trip to Argentina in Buenos Aires Wednesday, holding up banners reading "Go Home Obama" and burning the American flag.
President Obama landed in Argentina in the early morning hours of Thursday following his trip to Cuba, the first by a sitting U.S. president to the island since the Calvin Coolidge administration. His trip to Argentina coincides with the 40th anniversary of a military coup that precipitated the historical event known as the "Dirty War," in which thousands of leftists were arrested, killed, tortured, or "disappeared," tossed deep into the southern oceans of the country via helicopter. The BBC estimates 30,000 people were killed during the string of military dictatorships that ended in 1983, after a humbling defeat in the Falkland Islands against the UK.
Leftists in Argentina blame the United States for the persecution of that period because of their opposition to radical communist elements in the country at the time. This blame has extended to President Obama, whose presence within their borders they demanded cease immediately.
"We repudiate Obama's presence, as the head of the North American imperialism, who came to support the new reactionary, pro-yanqui government of Mauricio Macri," the head of the group Leftist Front, Juan Carlos Giordano, told Uruguay's El País. An official within another leftist group protesting, the Revolutionary Picketers Tendency, echoed that sentiment, adding the bizarre claim that President Obama had demanded "an intelligence report regarding the situation of popular organizations to evaluate possible protests against him."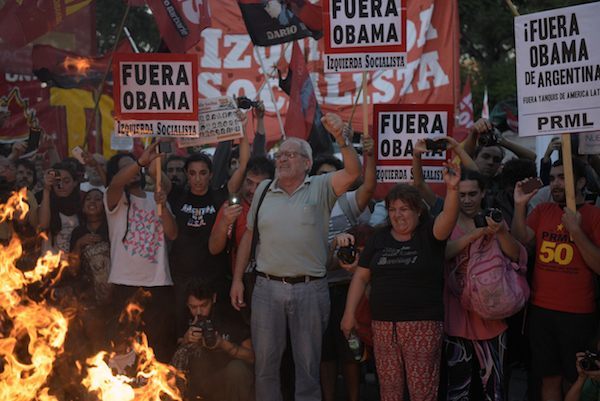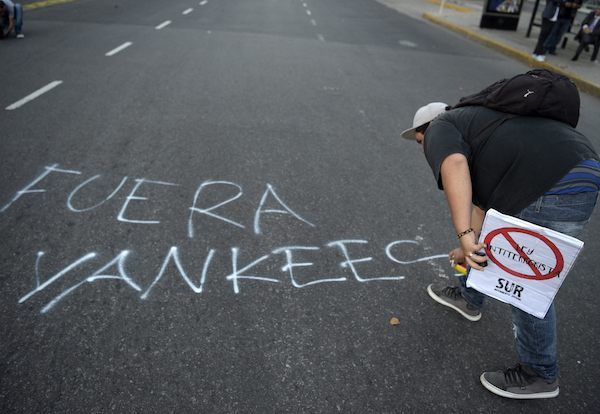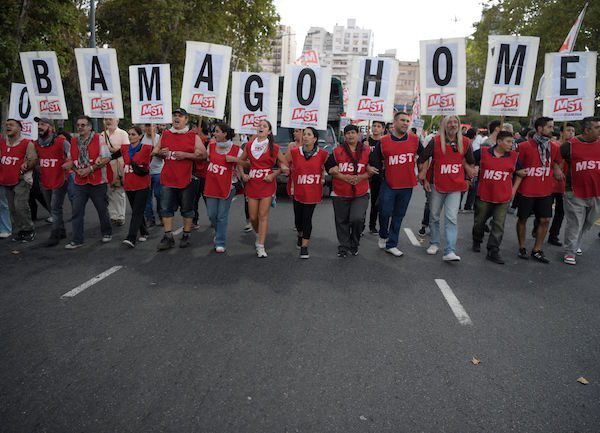 #FOTOS #AHORA #FUERA #OBAMA #ACTO #RURAL pic.twitter.com/acSJZvhhQU

— TPR Argentina (@Prensa_TPR) March 23, 2016
Ahora en Plaza Italia #FueraObama de Argentina y de América Latina #ObamaLaAmenazaEresTu pic.twitter.com/620m4pvu5o

— FPDS (@fpdsnacional) March 23, 2016
The protests have received positive coverage in the propaganda publications of sympathetic nations like Russia and Cuba.
While meeting with the pro-American, free market center-right President Mauricio Macri, President Obama has made statements that indicate he, at least in part, agrees that the United States is partly to blame for the Dirty War. "Democracies have to have the courage to acknowledge when we don't live up to the ideals that we stand for. And we've been slow to speak out for human rights and that was the case here," he said at an event Thursday.
President Obama later accompanied President Macri to a remembrance event on the banks of the Río de la Plata, tossing flowers into the river in memory of the victims of the military dictatorship. "The families led the efforts," President Obama said. "May the promise of 'Never Again' be fulfilled."
President Macri thanked President Obama for his presence. "Thank you for accompanying us in this painful moment in our history," he said at the event, also vowing "never again" against "political and institutional violence."
President Obama is scheduled to board his flight back to Washington tonight.