48-year-old Huang Yu, a computer technician in the Sichuan Province of southwestern China, has been sentenced to death for leaking over 150,000 classified documents to an unspecified foreign spy agency, according to Chinese state television.
According to the broadcast by China Central Television, as relayed by Shanghai Daily, Huang was paid some $700,000 for the information he leaked, which "covered secrets ranging from the ruling Communist Party to military and financial issues." In fact, he was allegedly paid a regular salary of $5,000 per month by the foreign intelligence service for his cooperation.
When he ran out of documents to sell, he "targeted his wife and brother-in-law, who also worked for government departments handling state secrets," according to CCTV — persuading his wife to copy classified documents for him and raiding her brother's computer for data while he was ostensibly repairing it. His wife and brother-in-law were given short prison sentences for "negligence," and 29 of his former colleagues were also punished in unspecified ways.
As for Huang, the Chinese television report said he was arrested in 2011. It was not clear when he was tried and sentenced, or if he has actually been executed yet.
Huang's spying career allegedly covered a full decade, beginning in 2001, although CCTV also offered a conflicting story that he contacted the "foreign spy organization" he worked with in 2004 and offered to sell them documents, after he was fired for "poor performance" from the research institution where he worked.
The New York Times says Huang's death sentence is "the first known case of a Chinese citizen's receiving the death penalty for espionage since 2008, when the government executed a biomedical researcher and a distant relative of his, accusing them of passing secrets to Taiwan."
The Times also quotes national security experts who believe Huang's trove of stolen documents, which included 90 Top Secret items, "is one of the largest known leaks in China in recent years."
These analysts suggested Beijing was publicizing Huang's case to advertise the government's tougher stance on national security and send a warning message to other would-be spies. To that end, the CCTV report included footage of Huang shuffling along in shackles and prison garb and a videotaped confession in which he urged people who "are doing similar things, betraying their country" to "report themselves to the national security people."
Another element of China's national-security crackdown, reported on Thursday by CNN, is a comic-book-style poster warning female Chinese government employees against dating handsome foreign men, because they might be spies.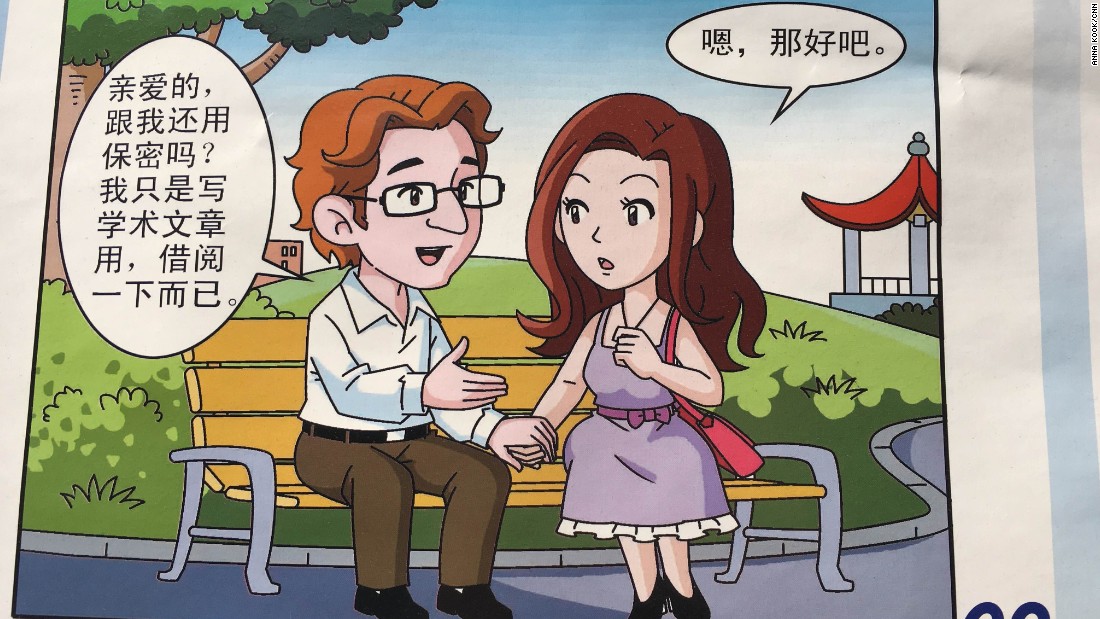 According to CNN's translation, the man named "David" in the panel above is trying to convince a smitten government worker named "Xiao Li" to show him secrets for his "academic articles."  She replies, "Uh, OK, then."
Human-rights groups, such as Amnesty International, are protesting Huang's death sentence and the atmosphere of "paranoia, suspicion, and xenophobia" Beijing's campaign against spying is creating.