An interactive guide by OpenTheBooks gives veterans and their families quick access to the titles, names, and salaries of officials employed at the Department of Veterans Affairs centers in their neighborhood and across the country.
"We pioneered this interactive map so regular people can review VA hiring and salary decisions, the job titles created, and staffing by location," explained Adam Andrzejewski, founder and CEO of OpenTheBooks.com, during an interview with Breitbart News. "With roughly 60 percent of the V.A. salary spending on positions outside of direct medical care one has to wonder whether the VA is an employment farm or a medical system."
Users can easily access information linked to the the employment rolls of nearby VA facilities through a search function on the map.
Hospitals operated by President Barack Obama's VA have been taking a lot of flak for keeping long wait lists of veterans in need of crucial care. To the horror of many Americans, the VA inspector general reported last year that 300,000-plus U.S. veterans likely died while waiting for medical care, many of them after having avoided death in combat.
"Using our data at OpenTheBooks.com, we found that the VA created 39,454 new positions on their payroll between 2012 and 2015, yet hired only 3,591 new 'Medical Officers,' i.e. doctors," Andrzejewski told Breitbart News.
"Fewer than 1 in 11 of these new positions (3,591) or less than ten-percent were doctors," he continued. "We also found the VA lawyered-up – hiring 175 more attorneys, paid $100 million to public relations officers, and spent over $750 million on furniture. But, incredibly, sick veterans still can't get an appointment, because there just aren't enough doctors."
The interactive map was launched last Wednesday, less than a week before the Memorial Day weekend.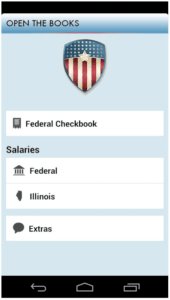 According to USA Today, nearly half a million veterans are still waiting to see a VA doctor.
Trailing only the Pentagon, the VA is the second-largest federal cabinet department with over a workforce of about 335,000 full-time employees as of September 2015, including nearly 300,000 who support the department's health care system, deemed one of the largest in the world.
"The VA is violating one of our most sacred bonds – to care for him and her who shall have borne the battle. It's our moral obligation to fight for the men and women who fought for us," declared Andrzejewski, author of OpenTheBooks Snapshot Oversight Report – The VA Scandal Two Years Later. "Now, citizens can search and see for themselves VA misallocation of resources."
"Our data and analysis at OpenTheBooks.com shows that not much has changed at the VA since the scandal," he added. "For all the public anger, media editorials, and political posturing, VA reform looks like nothing more than a Cold War shakeup at the Politburo."