Here's a roundup of the view from outside America's borders, as publications around the world cover Election Day in the United States.
The UK Daily Mail headlined its U.S. political coverage with an old photograph of Donald Trump lounging on a bed in a robe, because the Daily Mail is Elysium for oddball photography.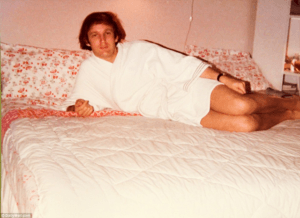 The caption for this photo is, "Donald Trump channels Burt Reynolds – the quintessential Cosmopolitan centerfold – as he relaxes in his robe." Eat your heart out, Bandit! The article reproduces a trove of old Trump family photos and other memorabilia that was found stuffed into a suitcase. The piece is very kind to Trump overall, asserting that the photos highlight his softer side as a family man.
At the other extreme we have the Hamburger Morgenpost, which does not seem to think much of either Trump or his chances to win the election:
The beauty of the German language, explained in one newspaper's front page pic.twitter.com/yP6vSK369y

— Alex Abad-Santos (@alex_abads) November 8, 2016
The Melbourne Herald-Sun thinks the saga of the FBI's on-again, off-again investigation of the Clinton email server ended up as a big win for Hillary: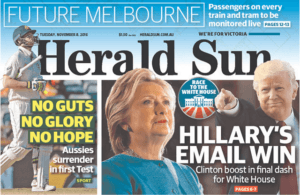 Austrian papers say tonight is "the night that will decide our future, and make both Trump and Clinton look like they're trying to decide what to order while standing in line at Burger King: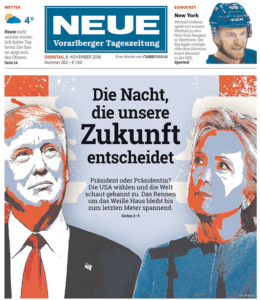 Belgium's De Morgen touts an op-ed that argues Trump has the same politics as Adolf Hitler: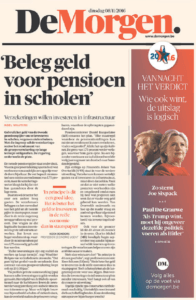 Brazil's Jornal do Commercio assures readers that Brazil is not a "priority" for either candidate, "but the position of Democrat Hillary Clinton is more receptive to Latin America than that of Republican Donald Trump."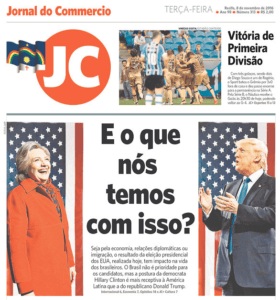 Ethnos of Athens makes it seem as if this long presidential election might be settled with a karaoke showdown: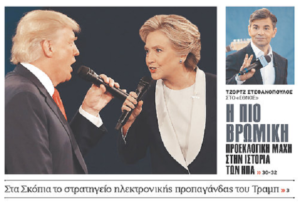 Trouw of Amsterdam says the choice between Trump and Clinton is "uncomfortable."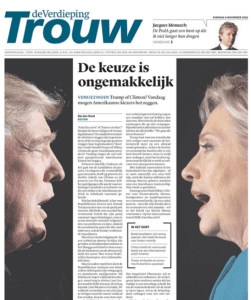 Dennik N of Slovakia gives Trump the front page all to himself, with a rather striking layout: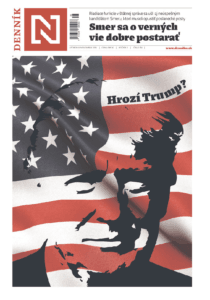 The UK Guardian, conversely, lets Clinton have the front page alone, but it is not a very flattering photo. She looks like she is launching the COBRA attack that could take down G.I. Joe once and for all: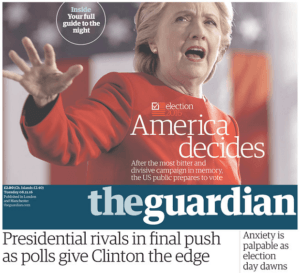 Israel's Haaretz unleashed the most terrifying editorial cartoons of the two candidates ever seen. They made Clinton look like the robotic mask Arnold Schwarzenegger used to slip past security on his flight to Mars in Total Recall. 
Barcelona's Ara eschews both Trump and Clinton to headline the U.S. election with The Simpsons. (The front-page story argues that tensions are so high in the election that even the venerable cartoon series "made an episode critical of Donald Trump.")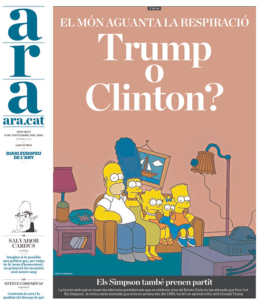 Germany's Deutsche Welle headlined their website with a funny photo of the Trumps voting that has been zipping around the Internet in the U.S. as well.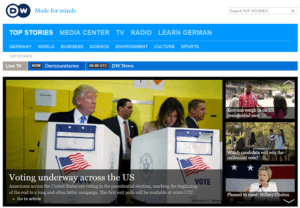 France's Liberation uses a scary silhouette of Trump, and declares "the unheard-of violence" of the U.S. presidential campaign will leave "a severely fractured country," no matter the outcome: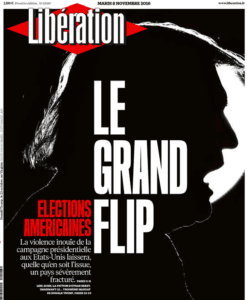 (Hat tip to Newseum for many of the above front pages.)