WASHINGTON, D.C. – On Friday, the Turkish Embassy in Washington, D.C. held a press conference to observe the one year anniversary of the failed coup that left nearly 250 people dead and thousands more injured.
Serdar Kilic, the Turkish Ambassador to the United States, described the failed coup as "Turkey's 9/11."
One year ago, he said, "members of the Fethullah Gulen terrorist organization" attempted to seize power from the Turkish government. "It was not a military coup, but the worst terrorist attack in the history of Turkish government," he added, claiming, "There's a general consensus in Turkey that Fethullah Gulen and his disciples were behind this heinous event. His desire to take control of the Turkish state was not secret in Turkey."
The Turkish government has blamed Gulen, a U.S.-based cleric who runs a charter school network, for the assassination of the Russian Ambassador Andrey Karlov in Ankara as well as the failed coup and a number of terrorist incidents. Erdogan's government has taken legal action against 169,000 people since last year's failed coup, which includes 50,000 individuals who were arrested, among them were 24 Governors and 169 Generals.
Breitbart News reported that "Independent data shows that 138,148 people have lost their government jobs at the national and local levels as a result of a post-coup purge by Erdogan."
The nation's secular opposition has galvanized against reforms that greatly expanded the government's reach into citizens' daily lives since the coup attempt. Last Sunday, a 25-day march for justice to end the state of emergency and express opposition to Erdogan wound down in Istanbul, with over 1.5 million people attending the closing event.
Turkey has been in a state of emergency since July 15, 2016. "All of these events are taken in complete transparency," Ambassador Kilic claimed, citing a survey that he alleged proved 87.4 percent of the Turkish people say that the state of emergency did not affect their daily lives."
The embassy featured a three-dimensional recreation of the failed Turkish coup.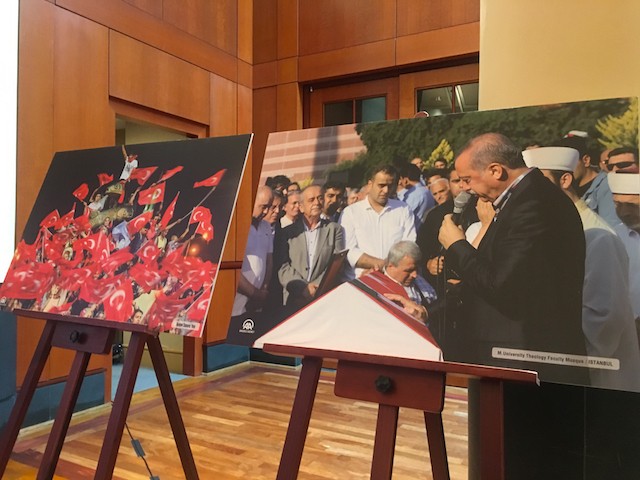 While the Turkish government has placed the blame squarely on Gulen, Turkish citizens and regional experts hold a variety of opinions on the matter.
"We think Gulen's behind it," Okan Altiparmak, 56, a filmmaker and an editor for the website Muslim World Today who lives in Turkey, told Breitbart News in a Skype interview early Saturday morning. "However, it appears that the Turkish government knew what was going to happen and decided to take advantage of it politically. They allowed it to happen to a certain extent and exploited it for political advantage." He noted that "there are certainly elements that show that Gulenists were behind the attempted coup" and added, "the way I judge the coup was through the military victims in the Sledge Hammer case."
Altiparmak said he has "no doubt" that Gulen infiltrated the Turkish government, headed by President Recep Tayyip Erdogan. "They are also very active in the AKP, the ruling party." However, he said Erdogan's government "ha[s] not gone after the political arm of the Gulenist movement because it does not benefit Erdogan. Even the justice minister is a Gulenist."
Altiparmak nonetheless pushed back against the ambassador's statement about evidence, saying, "I have a friend in the U.S. consulate here. He said it's all junk what the AKP presented them with. I believe the AKP does not want Gulen to come to Turkey."
American officials have said they have found no evidence linking Gulen to the coup. Rep. Devin Nunes (R-CA), Chairman of the House Intelligence Committee, told Fox News's Chris Wallace on Fox News Sunday, "I haven't seen the evidence for that, that Gülen was involved in anything like that [the failed coup attempt]."
Last August, the AFP reported, "Turkey has submitted four extradition requests for the US-based cleric Fethullah Gulen but offered no evidence tying him to last month's failed coup, a senior US official said Wednesday."
In March, the UK Parliament's Foreign Affairs Committee (FCO) issued a report that stated, "There is a relative lack of hard, publicly-available evidence to prove that the Gulenists as an organization were responsible for the coup attempt in Turkey." It added, "While there is evidence to indicate that some individual Gulenists were involved, it is mostly anecdotal or circumstantial, sometimes premised on information from confessions or informants, and is – so far – inconclusive in relation to the organization as a whole or its leadership."
At the embassy event, Kilic expressed some frustration with the fact that Gulen has not yet been extradited to Turkey from the U.S. "It's not moving as fast as the Turkish government would like it to move and there should be a legal case for extraditing him," he said. "We have enough information to lead to his extraction."
Akeel Abbas, a professor from Iraq who teaches at the American University of Iraq in Kurdistan, told Breitbart News that he is skeptical that Gulen was behind the failed Turkish coup. "It is not true probably," he said, taking on a similar view to Altiparmak who believes the Turkish government had prior knowledge about the attempted coup.
Abbas noted his belief that "since the coup, Erdogan has actually been purging more Gulenists because it's a state of emergency, so he suspended parts of the Constitution." He added, "since the referendum vote took place in April, he can now appoint the top judges without going through parliament" due to his increased power. "Now he doesn't even need to state of emergency and can use his constitutional powers."
"Gulen and Erdogan were once close," Abbas, who is Kurdish, said. "Gulen was at one point in allegiance with Erdogan. He helped Erdogan a lot, actually. Both were Islamists and are still Islamists." He noted his view that "Gulen has a view about Islam that is, historically, reformist and he still continues to be a reformist. But when Gulen saw that Erdogan had turned autocratic, they parted ways. Erdogan became increasingly dictatorial. He had large popular support and the economy was booming and so he started cracking down on the Gulen movement and shutting down his schools and traditional bastions of power."
He described Gulen as "a different version of the Muslim Brotherhood and CAIR. His target is the United States before Turkey, I believe," he said, expressing his belief that Gulen's charter schools are decoys to spread and indoctrinate youth.
During his talk Friday, Ambassador Kilic read some quotes he attributed to Gulen before showing a video clip of him saying those words:
In his own words, his instructions to his followers as early as the 1980s were, and I quote, 'You must move in the arteries of the system without anyone noticing your existence until you reach all the power centers…. until the conditions are ripe, they [the followers] must continue like this. If they do something prematurely, the world will crush our heads, and Muslims will suffer everywhere… You must wait until such time as you have gotten all the state power… Until that time, any step taken would be too early – like breaking an egg without waiting the full 40 days for it to hatch. It would be like killing the chick inside.'
Inside the Turkish embassy, several young Turkish men, of millennial age, were helping as volunteers with the virtual reality booth. Erdogan is quite popular among the youth in his country.
Gorkam Kaziltas, 19, who supports Erdogan, told Breitbart News he was in Istanbul at the time of the coup. He said of those who attempted to carry out the coup, "they are some Gulen people who infiltrated and are using the Turkish military clothes" because Gulen has "access and power" in Turkey.
Adelle Nazarian is a politics and national security reporter for Breitbart News. Follow her on Facebook and Twitter.