Last Wednesday, Alderman Proco "Joe" Moreno of Chicago's 1st Ward declared he was invoking "aldermanic privilege" to stop Chick-fil-A from moving forward with plans to open a restaurant. When I stopped by the Alderman's office to try speak with Moreno on the issue, his staff informed me he was unavailable.
While at the alderman's office, I noticed the windows displayed neighborhood community organizing campaigns as well as neighborhood business issues, which is innocuous and normal for public offices.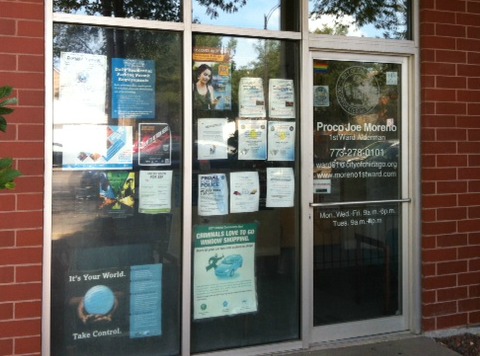 Adjacent to this set of windows is another block of windows, also attached to Moreno's office, which are plastered with Obama reelection posters and LGBT for Obama posters.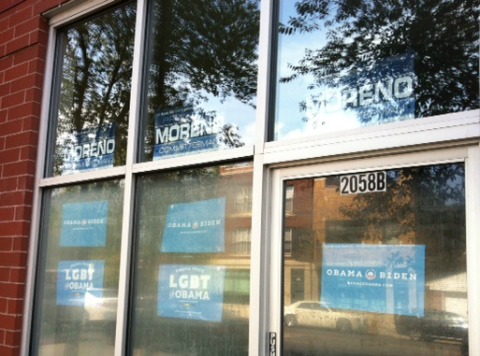 The front desk receptionists told me these windows belong to the next-door office, which is adjoined by pass-through doors to the Alderman's office. In this "next-door office" with the Obama propaganda is the Alderman's "political office." Further, Alderman Moreno's receptionists said that the political office shares space with Obama for America, the President's campaign.
A closer look inside Moreno's campaign office revealed it to be little more than a storage space for what the receptionist told me was a back-to-school backpack donation program. There were no phones, no computers–just a couple desks with stacks of noisemakers for public demonstrations, backpacks, and some boxes.
Inside the Alderman's official business office there is an Obama 2012 poster hanging on the wall over a desk in obvious view of any constituent that might enter–along with the usual office supplies, phones, computers, and file cabinets, etc.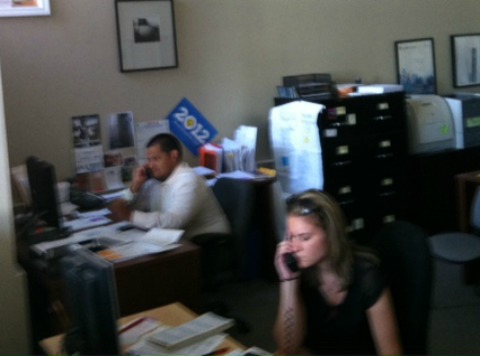 Given that the Obama campaign advertises the Alderman's official office address as its address, the lack of any distinguishing separate address numbers on the "campaign office," the lack of any activity or supplies in this "campaign office," and the presence of an Obama poster, is it possible that Moreno's official city office is doubling as a campaign office for both the Alderman and President Obama's campaign?
Obama for America's website advertises Alderman Moreno's office as a place to volunteer and make phone calls for the president.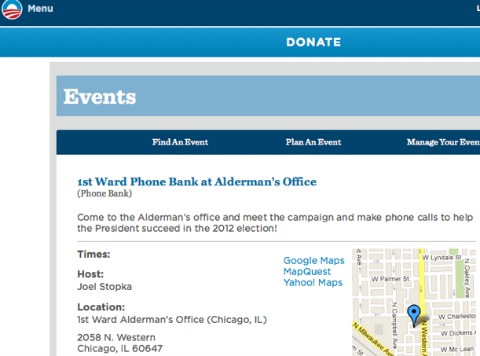 The website tells volunteers they can help out at 2058 N. Western Ave., which is the alderman's business address. The receptionist told me that the alderman's political office was next door where the number on the building says 2058B and is shared with the campaign.
This of course could be true, but, why does Cook County Assessor's Office and the Cook County Recorder of Deeds website say there is no such property as 2058B N. Western? The only address at the location is in fact 2058 N. Western #C-1. In Chicago real estate, the "C" typically indicates the unit is a commercial unit, distinguishing it from residential units in the building. There is no #C-2 or any other commercial unit in the tax records, nor any 2058B N. Western, which the receptionist claimed is the political office.
The entire office appears to be one commercial condominium, despite having multiple entrances. It is also evident that the so-called "political office" is being used as nothing more than a storage facility.
Matt Bailey, Moreno's legislative director, told Breitbart News that the office is leased but did not know if there is any actual breakdown of how the rent is being paid–whether or not taxpayer funds pay for the entire space. For that information, Bailey referred me to Raymond Valadez, Moreno's chief of staff. Valadez has still not responded to an email inquiry sent last Friday regarding the use of space and how it is funded.
Taxpayers, of course, foot the bill for their alderman's office, and it is not supposed to be used for partisan political purposes. However, there seems to be a very fine line that Moreno's office feels separates the two spaces, as far what is allowed and what isn't. 
It is difficult to determine the actual uses of the total property without access to lease records, rent checks, and further statements to verify whether or not this office is being properly used. Nevertheless, the only visibly functioning office at the premises is Moreno's official space.