On Monday, thousands of Americans turned out to pay homage to the late Chris Kyle, the former Navy SEAL sniper famous for the performance in Iraq that earned him the nickname from his enemies, The Devil of Ramadi. Kyle was murdered last week in Texas by a former soldier suffering from post-traumatic stress disorder.
Kyle's coffin was placed at the center of Cowboys Stadium, draped in an American flag. Over 7,000 people came to pay tribute to him.
Kyle's wife and children spoke in moving terms about the American hero. According to wife Taya, Chris made her feel like "pure gold." "Thank you Chris thank you for loving me, all of me," she said. "God worked through you to make me the woman I was supposed to be … You taught me I was okay just the way I am. I stand before you a broken woman but I am now and always will be a wife of a man who was a warrior both on and off the battlefield."
Chris' children wrote notes that were printed in the program. "You are the best dad ever," wrote Kyle's daughter, who signed only "Baby Girl." "I never wanted you to die, I miss your heart." His son wrote, "One of the best things that has happened to me is you. I love you dad. I always will."
Luminaries including Sarah Palin attended the funeral. There were no reported attendees from the Obama administration.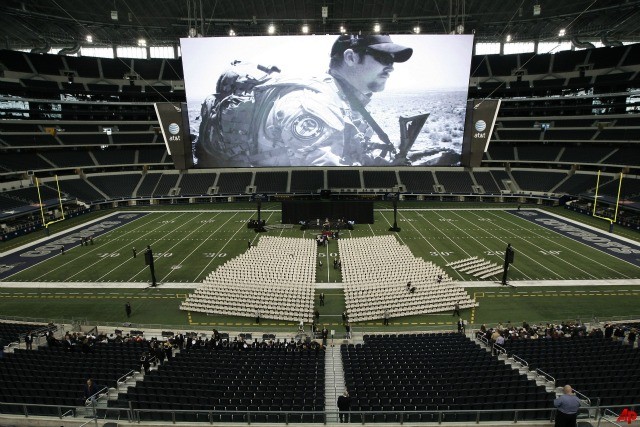 A photo of Christopher Kyle is displayed on the large screen before the start of a memorial service for the former Navy SEAL at Cowboys Stadium, Monday, Feb. 11, 2013, in Arlington, Texas. Thousands are expected to attend the public memorial service for Kyle, the former Navy SEAL sniper who was shot to death at a Texas shooting range. (AP Photo/Brandon Wade)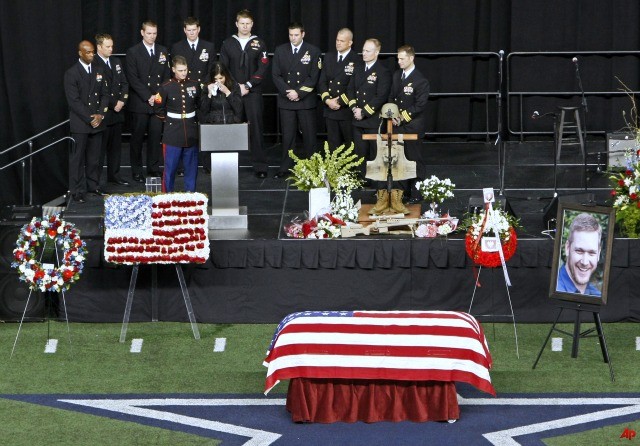 Christopher Kyle's wife, Taya, wipes tears away while memorializing her husband during a memorial service at Cowboys Stadium, Monday, Feb. 11, 2013, in Arlington, Texas. Thousands attended the public memorial service for Kyle, the former Navy SEAL sniper who was shot to death at a Texas shooting range. (AP Photo/Brandon Wade)
Christopher Kyle's wife, Taya, is escorted to her seat after memorializing her husband during a memorial service at Cowboys Stadium, Monday, Feb. 11, 2013, in Arlington, Texas. Thousands attended the public memorial service for Kyle, the former Navy SEAL sniper who was shot to death at a Texas shooting range.(AP Photo/Brandon Wade)
Bagpipers precede Christopher Kyle's casket during the recession of a memorial service at Cowboys Stadium, Monday, Feb. 11, 2013, in Arlington, Texas. Thousands attended the public memorial service for Kyle, the former Navy SEAL sniper who was shot to death at a Texas shooting range. (AP Photo/Brandon Wade)