Analysis of big issues in the 2014 mid-term elections reveals that Common Core was at the top of the search charts, according to Google Trends data.
Writing at education technology company edSurge, Michael Winters explains his team turned to Google Trends to find the relative search frequency of major 2014 election issues.
"To our surprise, the term 'Common Core' was searched for a lot more, in fact, than many other key issues in the 2014 election," he said.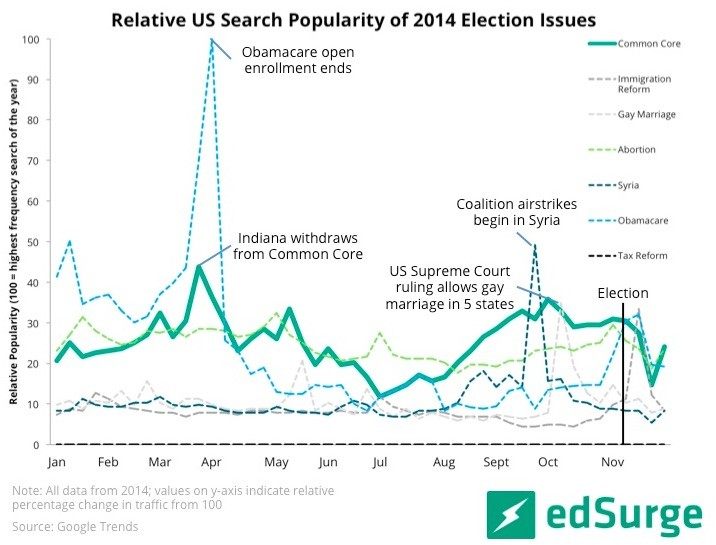 While "Common Core" and "abortion" took turns at the top of the search chart, the education initiative also led in searches between mid-August and the two weeks before the general election in November. Winters states that "Obamacare," "tax reform," and "immigration reform" never came close to the frequency of searches for "Common Core."
Winters cautions that some "Common Core" searches could have been teachers looking for Common Core-related materials for the classroom, and also observes that searches for "gay marriage" and "Syria" also spiked on key non-election-related news before dropping in search activity.
"But this data still suggests that the Common Core was an issue important to politicians and voters in 2014," he continued. "Our prediction is that this importance isn't going anywhere."
But, perspective is everything. Observing Google Trends for search activity about Justin Bieber, Winters points out that "even politics has no power over some forces of nature. Not a single issue can hold a candle to the search traffic generated by everyone's favorite pop star."